The Nintendo Mario Kart Phone and Alarm Clock Radio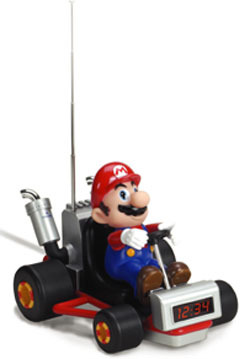 If you have an addiction for all thing Mario and Mario Kart, then of course you have to decorate your house with random Mario accessories. If you do you might want to include this Mario Kart Alarm Clock and Phone.
Keep in mind it isn't a combination phone and alarm clock, it took me a few minutes to figure that out (I'm kind of slow). These are two separate gadgets and if you snag both that will definitely separate you from the casual fans and clump you in with the hardcore Mario fans.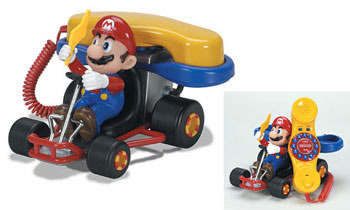 The phone, is well, a phone. It has no cool features besides the fact that it is Mario it lists such things as redial and a ringer on/off switch. Exciting isn't it? The alarm clock is about as exciting, it has an AM/FM radio and you can wake to buzzer or radio. Radio, who uses a radio, much less an AM radio?! The Clock Radio is priced at $39.95 and the phone for $59.95.
Mario Kart Phone and Alarm Clock [via nerdapproved]