Apple's potent new Mac Pro isn't even on shelves yet, but the company can't help tease us with updates for some of the apps that'll make most use of the speedy workstation. Logic Pro X is among the first to get a preemptive Mac Pro update, as Apple sets out some of the ways software can be optimized to make the most of the new hardware.
It's easy to assume that it's video editing, app development, and things like 3D modeling and CGI that will be the tasks taking advantage of the Mac Pro's power. Musicians, though, could find the new tower just as appealing. Indeed, Apple demonstrated some of its worth there during the WWDC 2019 opening keynote.
The headline feature is the ability to support up to 56 processing threads. For instance, it will mean that Logic Pro X 10.4.5 can deliver up to five times the number of real-time plugins, all running simultaneously, compared to the old, cylindrical Mac Pro. During the WWDC demo, Apple showed how a single Mac Pro could replace the multiple computers some musicians require to deal with all their instruments. You can see it at roughly the 1:29:10 section of their keynote video, below.
Even if you don't have the budget for a new Mac Pro, however, Apple is promising something more from Logic Pro X 10.4.5. The available track and channel count is being bumped up, for example, to support up to 1,000 audio tracks and 1,000 software instrument tracks. That's four times the number of tracks as before, assuming your system has the power to handle it.
There's also support for up to 1,000 auxiliary channel strips, 1,000 external MIDI tracks, and 12 sends per channel strip. The Mixer and Event List should be more responsive, Apple promises, even when dealing with larger sessions. Finally, there are performance improvements for projects where multiple Flex Time edits and tempo changes have been utilized.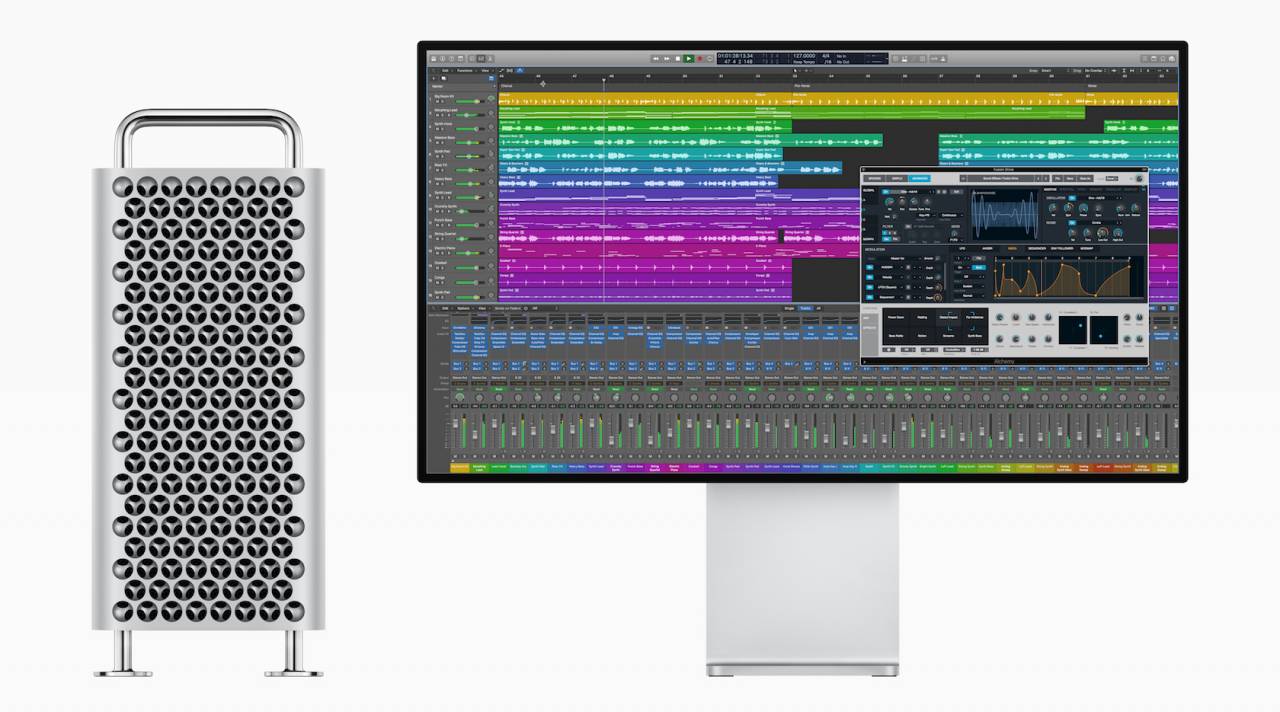 Other new features include the ability to filter by loop type in the loop browser. Musicians will also be able to drag and drop multiple loops into their projects simultaneously, Apple says. The DeEsser 2 plugin has been redesigned as well, with a broader array of options to reduce sibilance. Finally, MIDI beat clocks can now be sent to individual ports, each with unique settings such as timing offset and plug-in delay compensation.
In short, it's a solid list of reasons why, if you're seriously-serious about music, you might want to start saving the $5k+ for a new Mac Pro when it goes on sale later in the year. Logic Pro X 10.4.5, meanwhile, is a free update for existing owners from today, or available to purchase for new users at $199.99.