The Lighted Message Board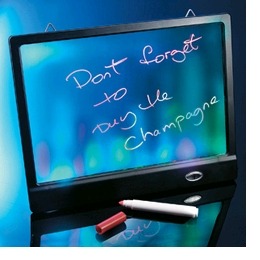 I always have at least one dry erase board in my house at all times. They are great for jotting down a number real fast or a small reminder for later. However, they aren't exactly aesthetically appealing. This Lighted Message Board is a slightly more chic alternative to the classic design.
Just write on the board and you can set it to blink or flash. It can also be set to show in a single color or in multicolor. The board also includes two special pens. Hopefully it won't stain like the regular boards do.
If you have a forgetful spouse I'm sure the flashing a message will help them notice any notes you've left for them. The Lighted Message Board is being sold online for $40.
Lighted Message Board [via teechee]