The LEGO Movie 2: A guide to all 19x wave-1 building sets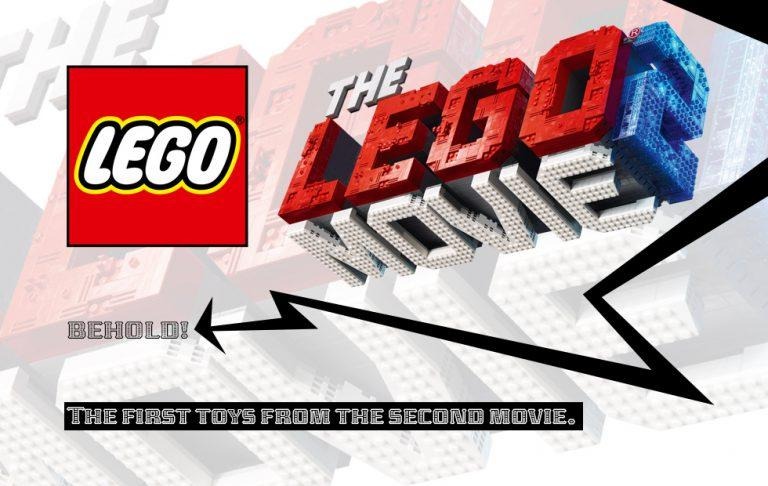 Today we're taking a peek at all 19 of the first wave of building sets for The LEGO Movie 2: The Second Part! This is the second of two movies (of what we must assume will be a never-ending collection), coming back to visit with all the biggest names in LEGO voices from the first round. Right about now we're going to look at what that'll all mean for LEGO toys!
You'll see a basic approach with these sets – a few sets for $10, a few for $20, $30, $40, $50, $60, and $70, and one mega-set for around $120. That's how I've separated the lot, here, by price tier. These are ALL coming to stores on December 26th, 2018, so you're probably going to feel like you need to rush to the store to buy them all for Christmas, but DON'T WORRY – they'll have made QUITE A FEW of each, of that you can (probably) be sure.
That first tier, $10 a set
These are going to be the best stocking-stuffers. It should be made clear that the greatest stocking stuffers ever made are the blind-pack Minifigs (every single set made thus far), but supposing those are sold out, these $10 sets should do just fine.
• 70822 — Unikitty's Sweetest Friends EVER!
76 pieces | Ages 5+ 
$9.99 USD  
• 70823 — Emmet's Thricycle!
173 pieces | Ages 7+ 
$9.99 USD  
• 70824 — Introducing Queen Watevra Wa'Nabi
115 pieces | Ages 6+ 
$9.99 USD  
• 70841 — Benny's Space Squad
68 pieces | Ages 5+ 
$9.99 USD  
The $20 tier
Just a couple of $20 sets for this movie's first wave of building sets. These are the sets that'll be perfect sizes for building for a good chunk of time on Christmas day, assuming you're celebrating your holiday over the course of a single day. There's absolutely no better gift for an introverted creative kid than a box of LEGO bricks.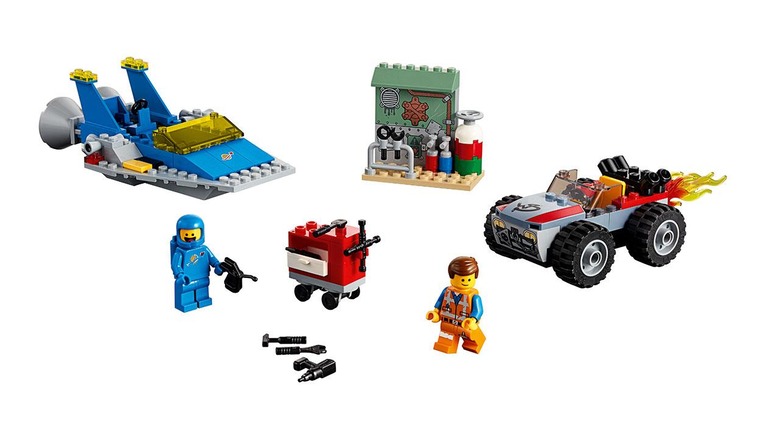 • 70821 — Emmet and Benny's 'Build and Fix Workshop'
117 pieces | Ages 4+ 
$19.99 USD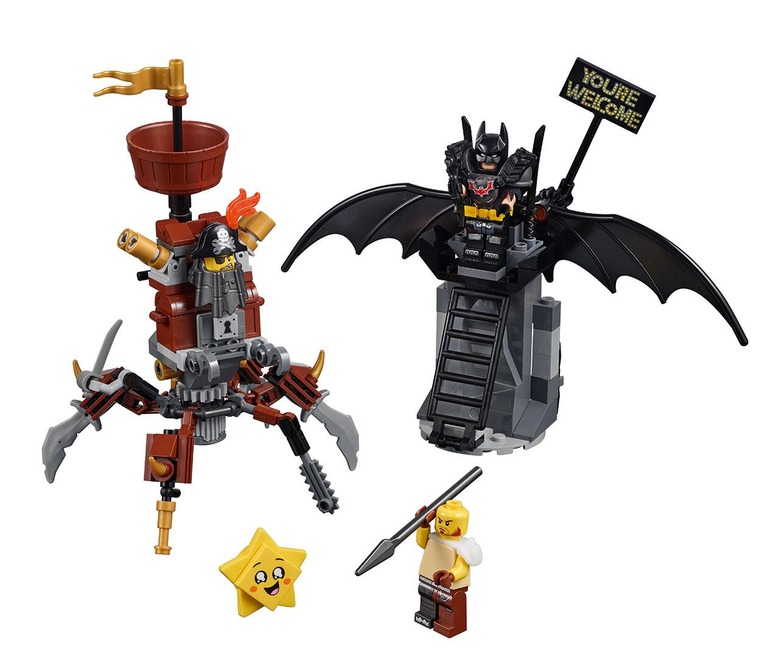 • 70836 — Battle-ready Batman and MetalBeard
168 pieces | Ages 6+ 
$19.99 USD  
Sets that'll cost $30
One of these sets is not like the other. One of these sets is made for 2-year-olds. But don't get it twisted! You might well want to buy the DUPLO set for your everyday average LEGO fan. These DUPLO bricks are part of the LEGO Movie Part 1 and Part 2, too, they're not just some odd additions in toys only.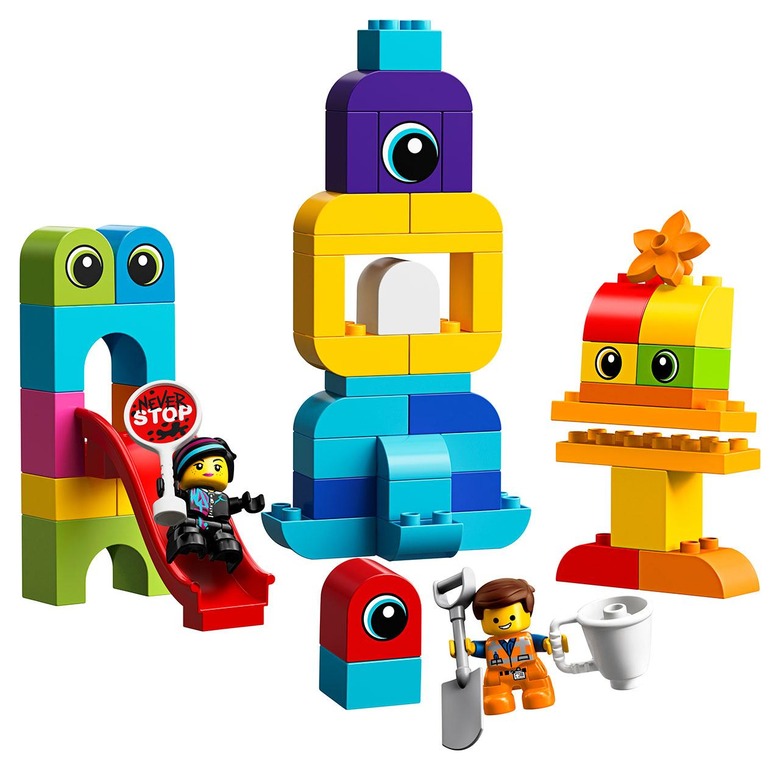 • 10895 — Emmet and Lucy's Visitors from the DUPLO Planet
53 pieces | Ages 2+ 
$29.99 USD  
There are a couple of hardcore awesome sets in this tier, one for Rex, the other for Ultrakatty (that's Ultrakatty, not just Unikitty – she's different now!)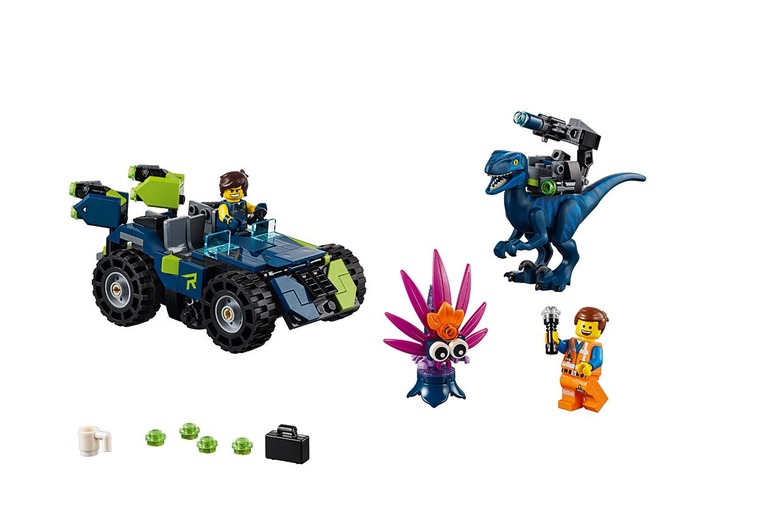 • 70826 — Rex's Rextreme Offroader
230 pieces | Ages 7+ 
$29.99 USD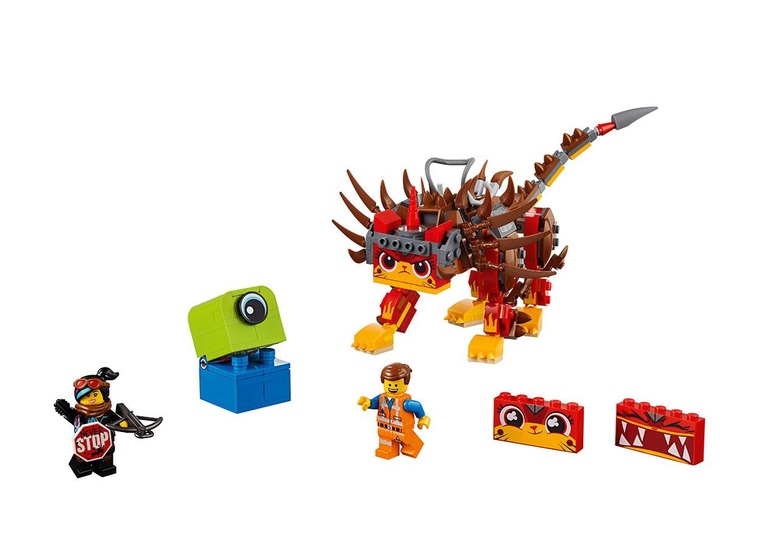 • 70827 — Ultrakatty and Warrior Lucy!
383 pieces | Ages 8+ 
$29.99 USD  
A couple of "Builder Box" sets are in the mix here, too. They add a whole new layer to the mind-bending concept of the movie about a toy which is built to be built. Both of these sets cost the same, but one has more pieces than the other. Both look pretty excellent.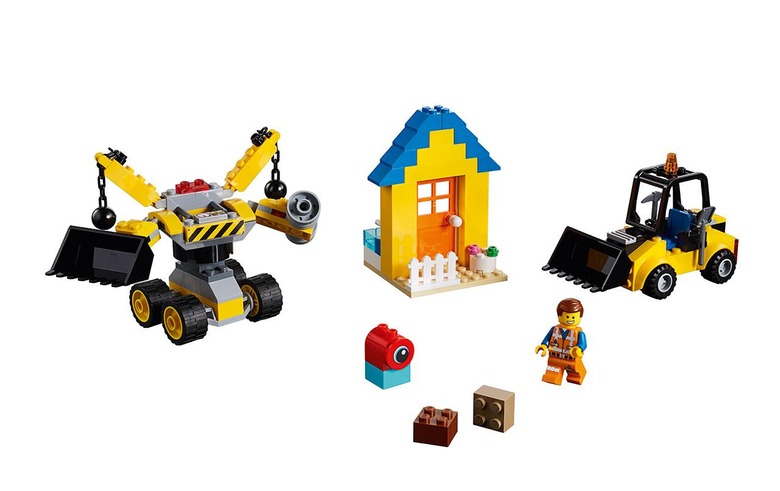 • 70832 — Emmet's Builder Box
125 pieces | Ages 5+ 
$29.99 USD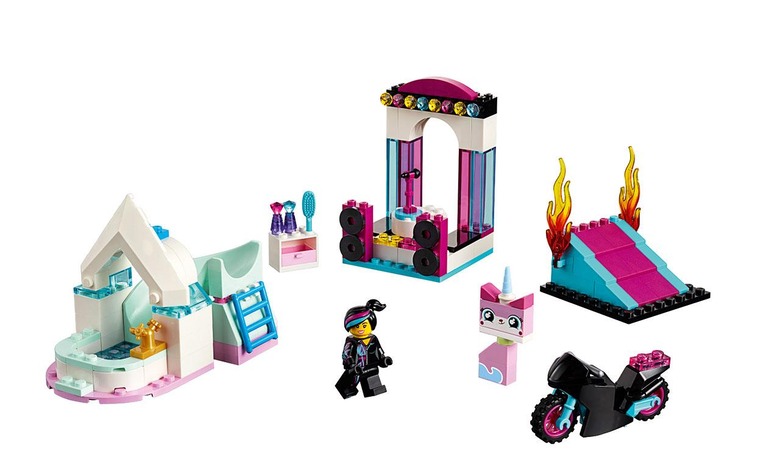 • 70833 — Lucy's Builder Box
141 pieces | Ages 5+ 
$29.99 USD  
$40 and $50
The most excellent and potentially newsworthy (we'll see) character in the new movie is called Queen Watevra Wa'Nabi. She's got her own "Build Whatever Box" that'll run you around $40. It's a sure-shot for those people that "just want a box of LEGO, what the heck!"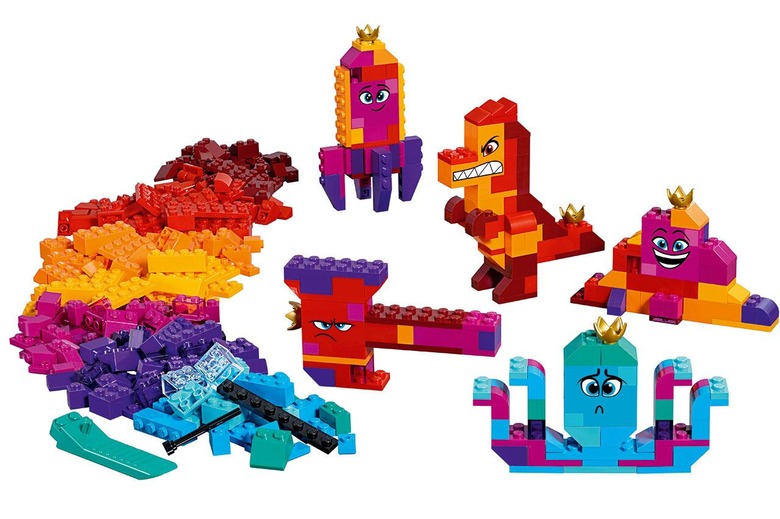 • 70825 — Queen Watevra Wa'Nabi's Build Whatever Box!
455 pieces | Ages 6+ 
$39.99 USD  
The $50 tier has two unique sets, one a giant "Escape Buggy" and the other a "LEGO Movie Maker." I'd caution against getting the Movie Maker set for anyone who's not going to be ready to play with their kids, recording video for hours on end. Because that's what this set is made for.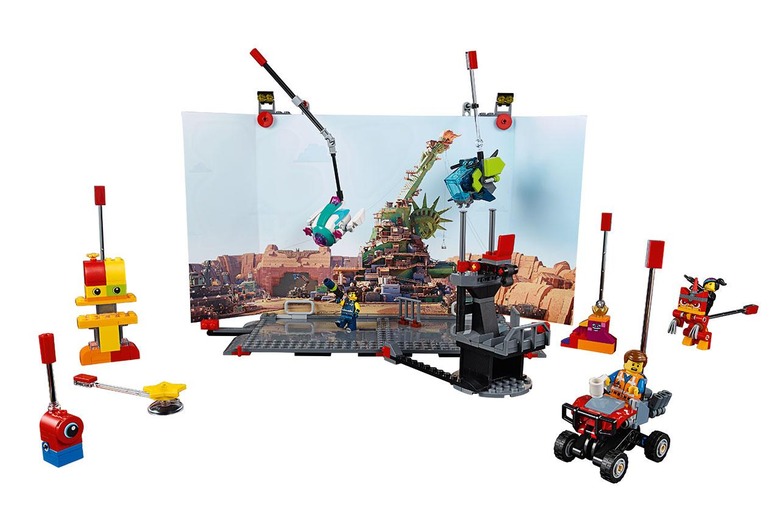 • 70820 — LEGO Movie Maker
482 pieces | Ages 8+ 
$49.99 USD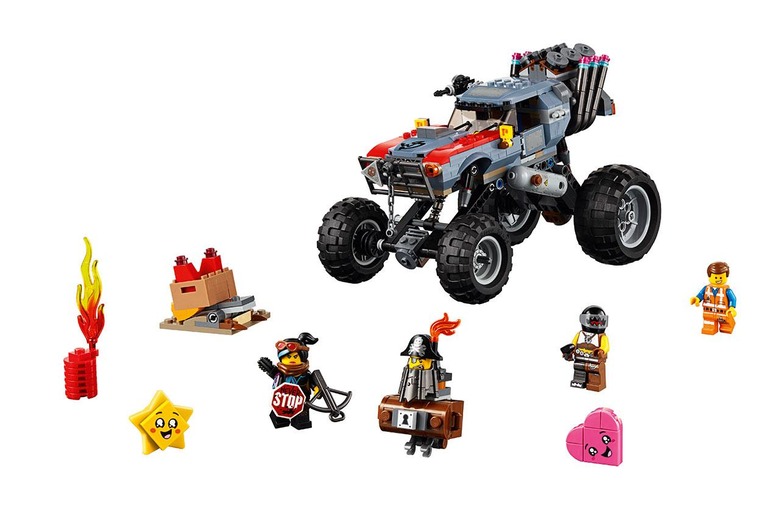 • 70829 — Emmet and Lucy's Escape Buggy
549 pieces | Ages 8+ 
$49.99 USD  
$60 and $70
This first wave of sets has some really awesome and epic vehicles in it, and the MetalBeard Heavy Metal Motor Trike is very obviously a contender for the most hardcore LEGO vehicle ever sold by LEGO. On the other end of the spectrum but no less excellent is the Sweet Mayhem's Systar Starship – the Friends and City LEGO worlds converge!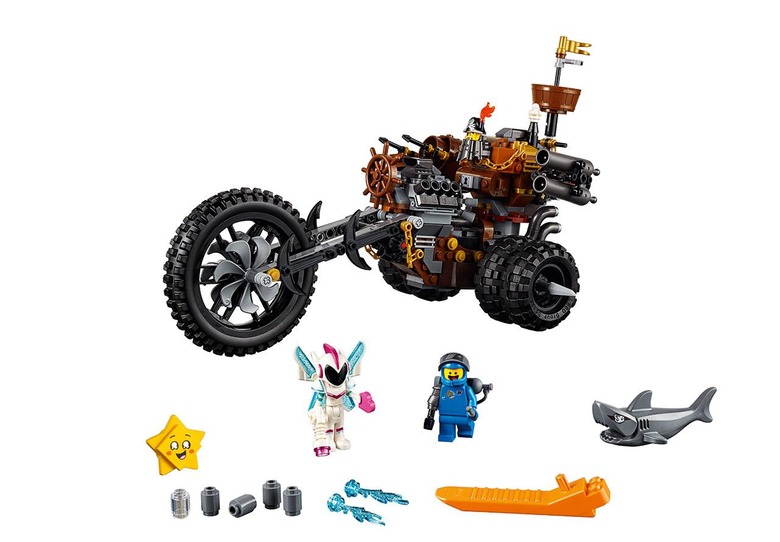 • 70834 — MetalBeard's Heavy Metal Motor Trike
458 pieces | Ages 7+ 
$59.99 USD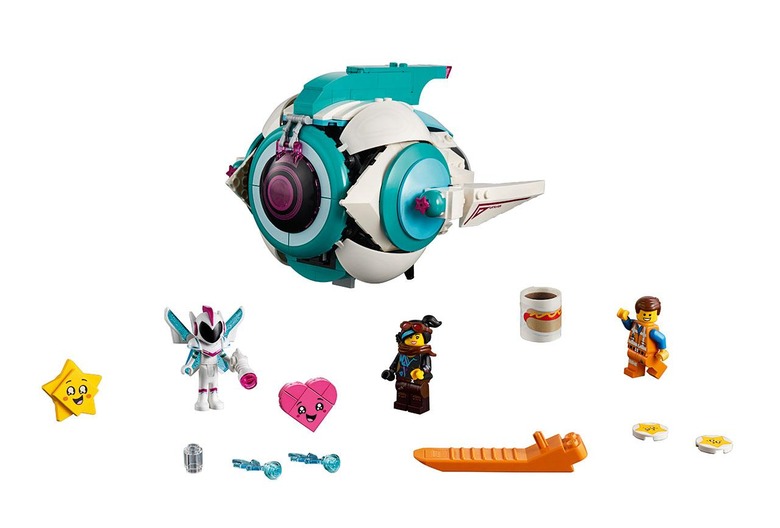 • 70830 — Sweet Mayhem's Systar Starship
500 pieces | Ages 9+ 
$69.99 USD  
Emmet has a Dream House here too. This set is a little harder to wrap one's head around. I'd recommend you make certain the gift-getter's seen the movie before they get this as a gift, as it might be a bit confusing otherwise.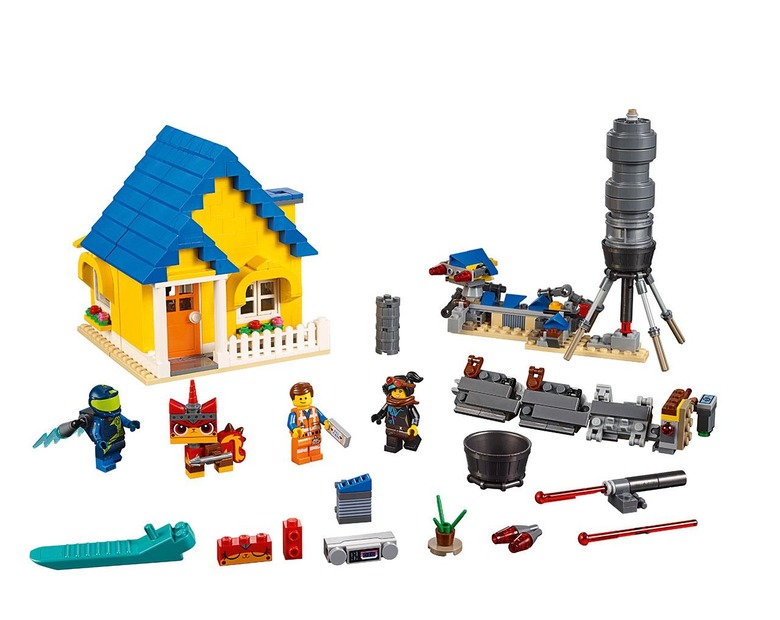 • 70831 — Emmet's Dream House/Rescue Rocket
706 pieces | Ages 8+ 
$69.99 USD  
The $80 tier
Holy cow this bus is going to tip over the instant it starts going around a corner! I think the award for most insane vehicle in the movie can safely be bestowed upon this monster right here.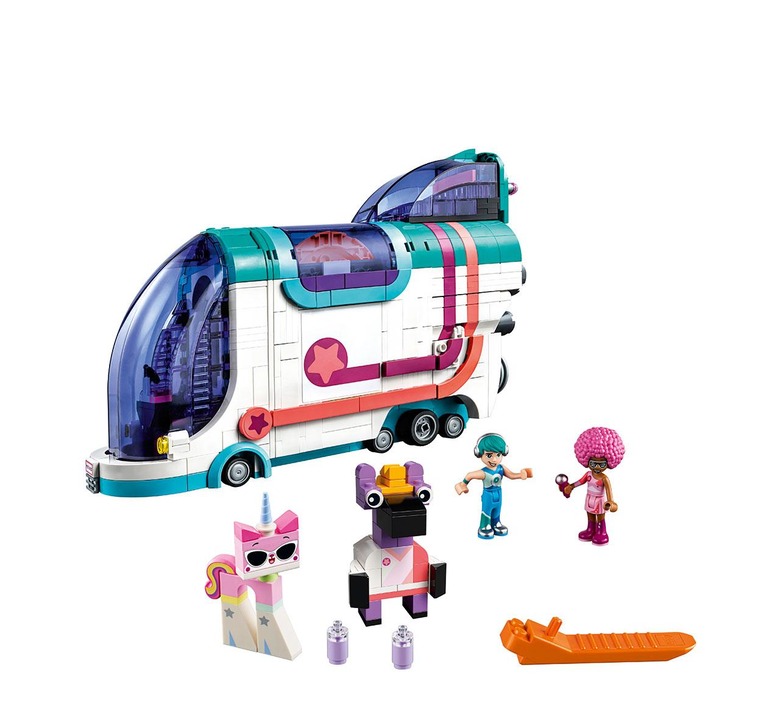 • 70828 — Pop-Up Party Bus
1,013 pieces | Ages 9+ 
$79.99 USD  
The most glorious $120 set
Oddly this doesn't seem like the most amazing set in the collection – but I've no doubt whoever gets it as a gift will flip out with joy. There are dinosaurs in here, after all. Dinosaurs with lasers!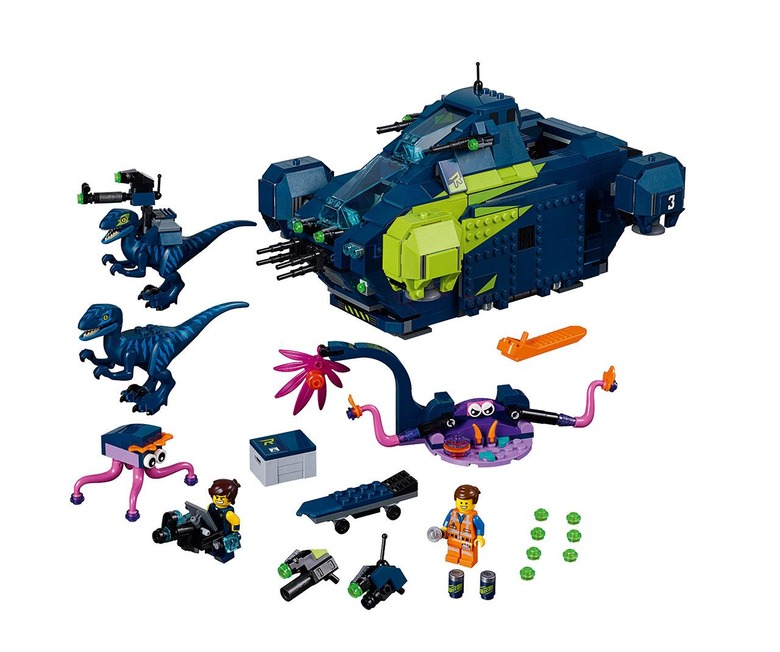 • 70835 — Rex's Rexplorer
1,172 pieces | Ages 9+ 
$119.99 USD  
Have a peek at our LEGO reviews in the timeline below and stay tuned, we'll be getting up close and personal with more LEGO bricks soon! This holiday season's going to be JAMMED full of new LEGO building sets – we'll be here to let you know which of the bunch is best to buy first.