The iPad Pro is here: Now its trial-by-fire begins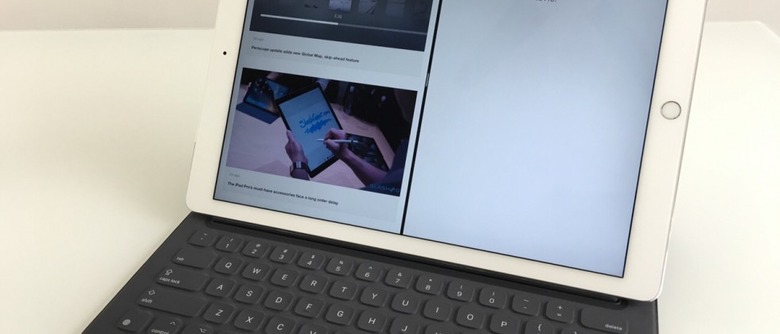 You already know it's big, and that it's powerful, but does the iPad Pro have what it takes to survive on the road as a true notebook replacement? Apple's 12.9-inch tablet is the biggest outing for iOS to-date, and just as we realized back when it was first announced, it's not only a huge deal for the Cupertino firm but a huge device period.
iPads have been getting progressively thinner over the past few generations, but the iPad Pro stretches that to almost comic proportions. Not only is it slim in its own right – at 6.9mm, it's actually thinner than the iPhone 6s – but the sizable Retina display emphasizes that even more.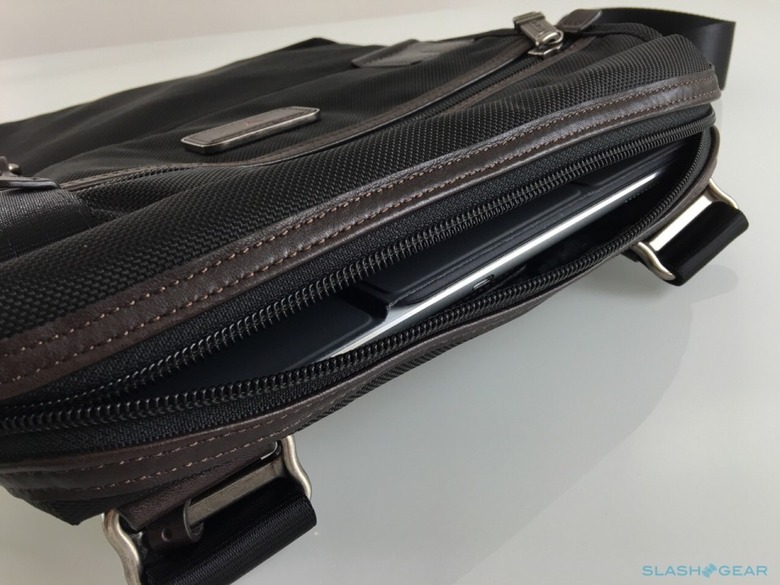 The result is a tablet that messes with your sense of proportions initially. It can also make iOS 9 look more than a little odd, its home screen icons spread broadly out across the 2732 x 2048 panel with vast margins around them. Many apps just aren't designed for that sort of real-estate, and what seems ergonomically balanced on a 9.7-inch display all of a sudden becomes less charming on the Pro's 12.9-inches.
It comes into its own when you're multitasking, though, with space for two full-sized iPad apps side by side. Early indications suggest there's no shortage of power to run that, either, with the A9X processor besting the Core M based 2015 MacBook in tests like Geekbench.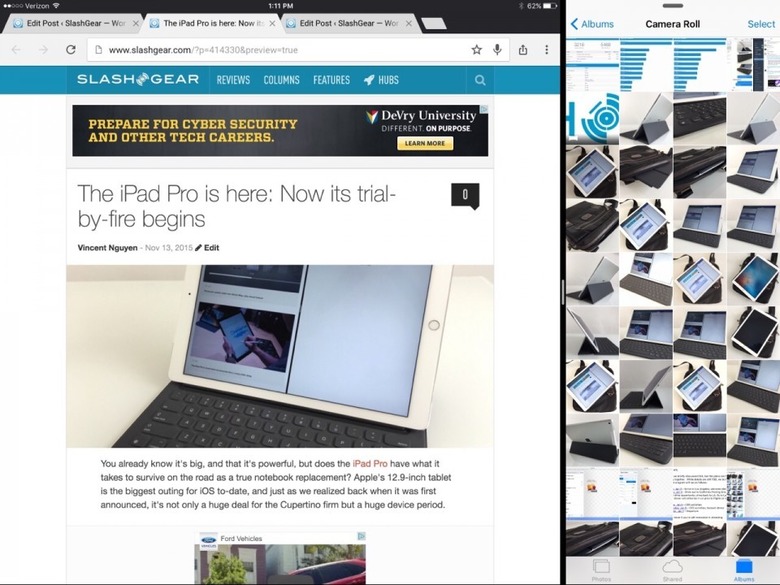 It also has peripherals that the MacBook doesn't. The Apple Pencil is the first official stylus from the company since, well, the stick of plastic that came with the ill-fated Newton PDA discontinued back in 1998, though it's a lot smarter than that.
I like the way it charges, the end cap popping off to reveal a Lightning plug that slots directly into the iPad Pro, though that does mean you don't get an eraser as you do with the stylus that Microsoft supplies with the Surface Pro 4. It's nicely balanced in the hand, though, and digital inking is smooth; you can navigate through the iOS UI, too, rather than having to switch between Pencil and fingertip.
It almost makes up, in fact, for the absence of 3D Touch. The iPad Pro may be Apple's flagship tablet, but it doesn't get the pressure-sensitive touchscreen that the iPhone 6s boasts. For digital artists that's probably not much of an issue, and for such purposes the Pencil arguably makes more sense.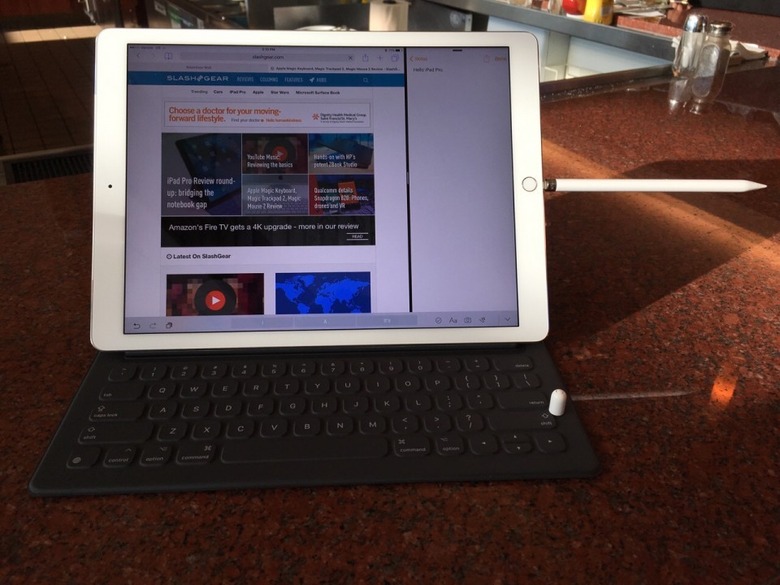 I'm a little less convinced by the Smart Keyboard, where I suspect the single angle at which it will prop up the iPad Pro might become a point of frustration for many users, myself included.
Apple makes some big promises about the iPad Pro. According to the company, it's the tablet that will finally retire your notebook; CEO Tim Cook has said the iPad Pro replaced his MacBook altogether while traveling.
So, mobility is key, but does the 12.9-inch tablet have what it takes to actually deliver on the move?
I'm not talking about occasionally dropping in at Starbucks, or going out into the garden to work from there. Over the next 21 days I'll be switching my laptop for the iPad Pro as I travel around multiple countries for a number of press events plus a short family vacation, trying to see whether Apple's boasts live up in the real world.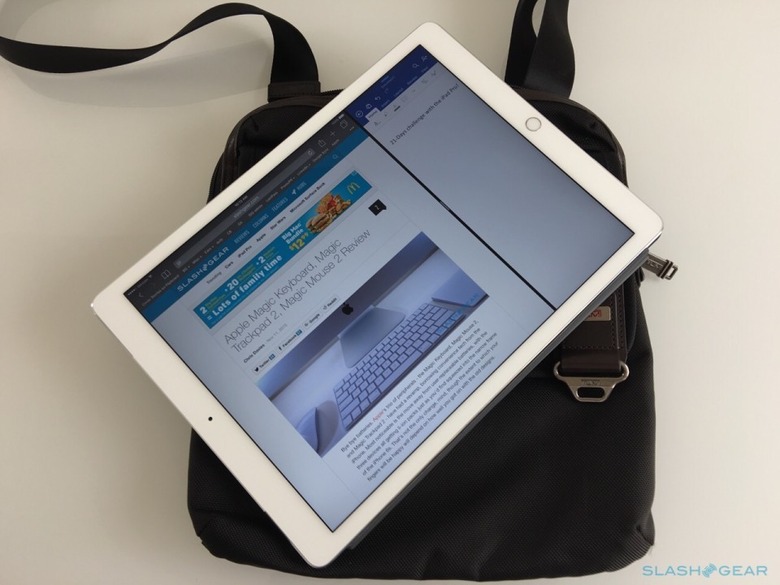 Just what will I be asking of the iPad Pro? There's writing, of course, along with email, Slack, and the other instant messaging applications I've come to rely on to keep in touch with family and coworkers. Photo editing is important, too: not just the odd image, but how well it holds up to going through multiple photos for tweaks, crops, and batch processing.
Then there's video. With the iPhone 6s now supporting native 4K recording, the iPad Pro needs to keep up with that. It also has to handle importing video from standalone cameras or GoPros.
Now, as I've written in the past, earlier iterations of iPad have certainly been able to do these things. What's been missing has been doing them with the same efficiency as a MacBook: if the hardware and software are technically capable, but the process itself takes twice as long, then I'm not going to leave my regular notebook behind.
In short, I've tried this sort of challenge before with tablets, and the iPad Air 2 has come closest to succeeding, but in the end I always end up back at the MacBook or MacBook Pro.
I think it's an important question to ask, because the iPad Pro is priced far more like one of Apple's notebooks than it is one of their tablets. Sure, the entry-level WiFi-only model comes in at $799, but then you're stuck with a frankly meager 32GB of storage.
If you want a decent 128GB then you're looking at $949, and if you want LTE – and you probably do, since mobility is so key to the core iPad Pro proposition – you're looking at $1,079. There's no 32GB LTE version, so you can't save money on storage and spend it on 4G instead.
Perhaps more controversial, though, is the fact that both the Apple Pencil and the Smart Keyboard are sold separately. Figure on $99 for the stylus – which, frankly, I think Apple should've included in the box – and $169 for the keyboard.
NOW READ: iPad Pro review round-up
Maxed out, then, you're looking at $1,347 altogether. In the same ballpark as a Retina MacBook or Retina MacBook Pro, which start out at $1,299, and considerably more than a MacBook Air, which kicks off at $899 for the 11-inch.
Each notebook has its advantages and compromises. None has a touchscreen. All get the full power of OS X El Capitan rather than iOS 9.
I don't know how the iPad Pro is going to hold up when asked to deliver the sort of abilities and efficiencies a notebook promises. I'll be reporting my findings on the road over the next few weeks, and I'm open to workflow suggestions, questions, and your own feedback if you're an iPad Pro early-adopter too.