'The Interview' racks up 1.5M illegal downloads in only 2 days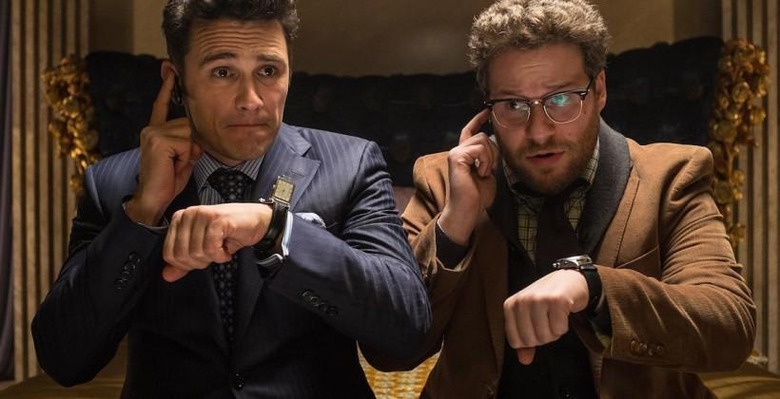 Like any major movie release these days, it wasn't long after controversial comedy The Interview became available to watch, in this case via streaming or download from sources including Google, Microsoft, and YouTube, that it started showing on illegal file-sharing sites. But due to the media frenzy surrounding the movie's release over the past month, with the Sony hacking and threats from North Korea, followed by theater showings cancelled around the country, The Interview has become the top download on a number of torrent sites in record time.
Data from Torrent Freak has revealed that within the first 10 hours of the film's official release on the internet and in select U.S. theaters, it was downloaded via BitTorrent roughly 200,000 times. That pace accelerates, as after 20 hours there were more than 750,000 downloads. And just short of two full days after release, The Interview has seen over 1.5 million illegal downloads.
The Seth Rogen and James Franco-starring movie is available most prominently on Microsoft's and Google's digital media stores, however only in the U.S. As such, Torrent Freak notes that a majority of the illegal downloads are from international viewers.
As for the legal distribution methods of The Interview, the movie can be called a fairly decent hit. The number of subscribers to Sony Pictures' YouTube channel nearly tripled in the span of three days, jumping from 173,000 on December 23rd to 416,000 on the 26th.
At theaters, the estimated $1 million the film made on Christmas day may seem like nothing, especially compared to Unbroken's $15 million, but remember that The Interview was only playing at a small handful of theaters across the country, making that an impressive number when compared to big Hollywood releases playing on nearly every screen.
SOURCE Torrent Freak, VentureBeat