The Hello Kitty Deco Seal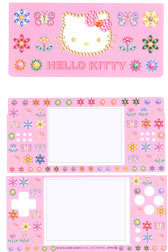 For all of the gaming Hello Kitty fanatics now you can pretty up your DS Lite with the Hello Kitty Deco Seal.
The set comes with three high-quality vinyl decals to make sure every single inch of your DS is covered with Hello Kitty goodness. If it weren't bad enough that its Hello Kitty the decal is overly frilly with butterflies and flowers. Not to mention very, pink.
It can be removed without damaging your DS and of course it does protect it from fading. To get the deco seal it will cost you $16.
Hello Kitty Deco Seal for DS Lite is all pink [via gizmodiva]