The Google Pixel shipping nightmare (and Verizon's XL role)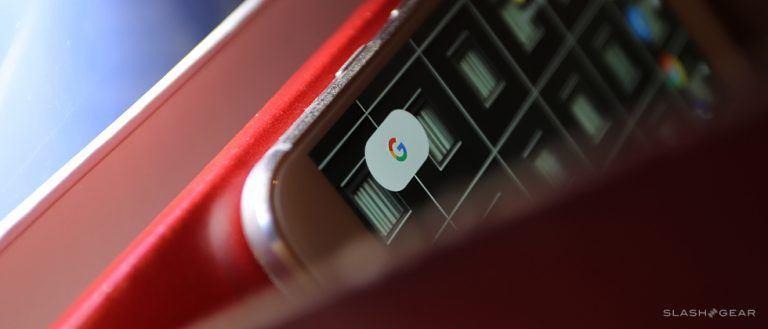 Google and Verizon are not doing a very good job handling supply and demand with the Pixel. In a Reddit thread 2,888 messages long (at publication time), potential Google Pixel smartphone users discuss delays in shipment and inconsistencies in stories from Google and Verizon. This situation is unique in that Verizon is selling the same phone as Google is supplying AND selling. What we're asking here is why there's an issue with shipping at all with what should be a well-oiled machine.
In-Stock Status
The Pixel XL appears Out Of Stock right this minute online from both Verizon and the Google Store – in all sizes. The Google Pixel – which isn't selling quite as quick as the XL – is available for shipping just a bit faster than the XL. Verizon's Black Friday sale brought the price down for the Pixel but not the Pixel XL, which suggests that they were either already selling the Pixel XL well enough, or their stock was already headed toward trouble levels.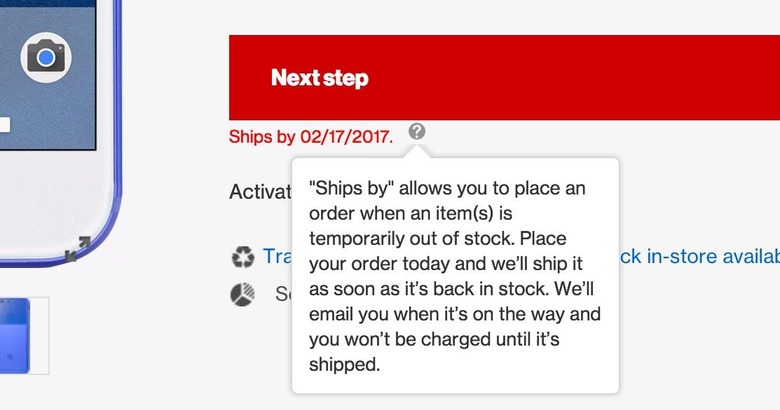 Verizon gets around stock issues by adding a tiny "Ships by" date in their online store. This Ships By date includes the following message when the user hovers over a nearby question mark: "'Ships by' allows you to place an order when an item(s) is temporarily out of stock. Place your order today and we'll ship it as soon as it's back in stock."
Shipping Status
Devices ordered as early as 11/15 are currently scheduled to be shipped by Verizon on the 17th of February. New orders from Verizon's online store have the same expected shipping date. From this we can surmise that Verizon's next shipment of devices will come at some point in the next few weeks.
Verizon is quoting the same ship date to new customers that they've given those that ordered several weeks ago. This could mean that Verizon is not giving priority to customers that have already purchased the device. It could also mean that Verizon plans on shipping earlier orders on the 17th – but that would mean that they're not being entirely truthful to online buyers, who'll then have to wait longer.
Google suggests that a Pixel ordered today will ship between the 13th and the 20th of January if it's a 32GB unit. If it's 128GB, shipping is set for January 5th. Google does not give an expected ship date for the Pixel XL because it is out of stock in all storage capacities.
Users Surveyed
A survey was conducted by the public via the Reddit thread linked above. This survey collected data from 673 (at publication time) respondents, all of whom ordered either a Pixel or a Pixel XL from one of several sources. Order sources in the survey included Google Store, Project Fi, Verizon, Best Buy, and "Other" – fill in the blank.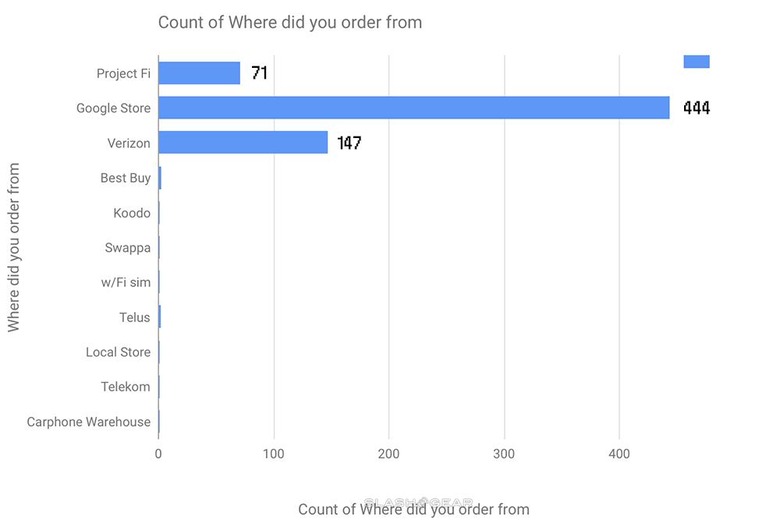 The vast majority of users selected either the Google Store (online), Verizon, or through Project Fi. Other answers appeared in statistically insignificant amounts. We're using just those customers of Verizon or the Google Store for this next section where we show Verizon shipments appearing to stop for users that ordered any later than the end of November.
Verizon Shipments Stop
Of the 444 users that reported ordering from the Google Store, 194 say their orders have already shipped. Of the 147 users that suggest they purchased through Verizon, 45 say they've had their orders shipped. That's 31% of Verizon customers suggesting they've received orders and 44% of Google Store customers suggesting they've received their orders.
Normally we'd cut this chart off at some point in recent history to allow for reasonable expected ship times. We could have cut off the chart at December, for example, expecting that those that ordered as recent as November should be the last to reasonably expect their phone to have arrived at their home. But Google ships too fast, and because of this, we get an interesting big of information about these two sources for the Pixel.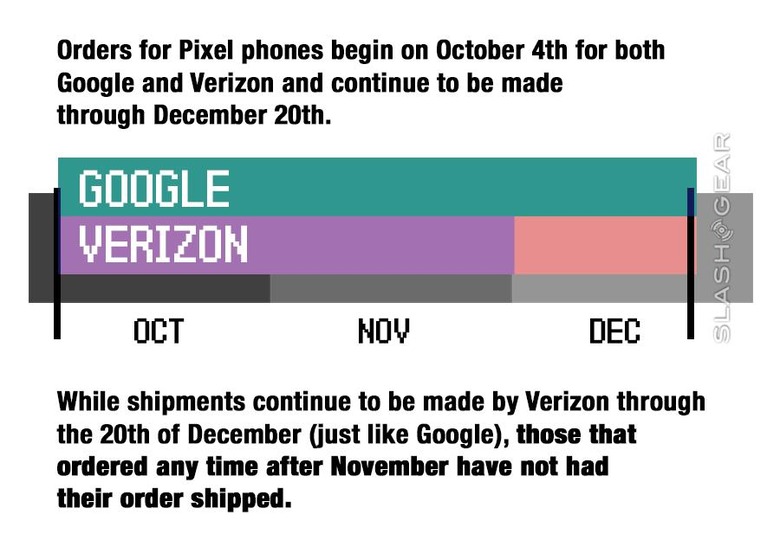 Those "shipped" ordered from Verizon say they ordered as early as October 4th or as recent as the last week of November. Those "shipped" ordered from the Google Store say they ordered as early as October 4th or as recent as mid-December. This suggests that while Verizon's shipping times seem to be slipping, Google's shipping times remain relatively consistent.
Questions to ask
The following questions still need to be answered:
• Why are customers being told an expected ship date by Verizon only to have that date moved when they call in and ask where their device is?
• Is Verizon shipping phones to "new" customers before shipping to established customers, as implied in the Reddit thread above?
• Why does it seem that demand outweighs supply with the Pixel and Pixel XL? Google has had this problem in the past with Nexus smartphones made by multiple different manufacturers. Is Google the one who should answer for slow shipments from Verizon, or has Google gotten their act together while Verizon underestimated demand for the Pixel?
Stick around as we continue to investigate this situation. We'll be asking these questions of Verizon, Google, and anyone else who may have information that explains it all.
ALSO: Thanks to SomeGuy8010 for the original Reddit thread as well as LintStalker for the tip – and additional work in the thread getting the word out.