The Gear S2 vs Apple Watch showdown I really care about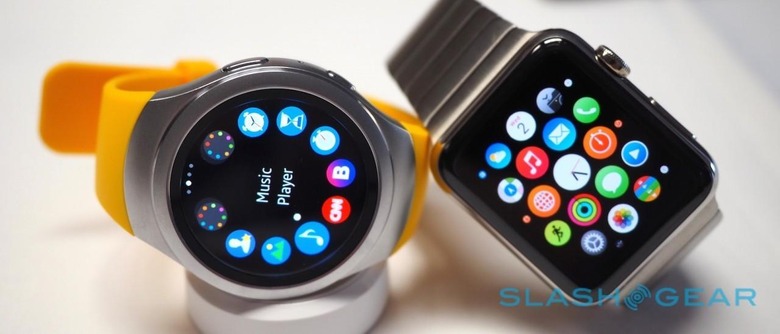 You can debate specs, argue square versus circle until you're blue in the face, but the big Gear S2 vs Apple Watch argument is which is more fidget-friendly. Samsung's new Tizen-powered smartwatch, launched at IFA 2015 last week to broadly positive reviews, is not only the first from the company to have a round display, but the first to use a clever rotating bezel for navigation.
As a self-confessed fidgeter, seldom happier in meetings, on trains and busses, or just while watching TV to be absent-mindedly tweaking and tapping with my fingertips, the Gear S2's scroll wheel is mighty appealing. Samsung definitely got the balance and the resistance right: the wheel smoothly turns with just enough of a click that you feel each notch, but not so much to make the whole thing jerky.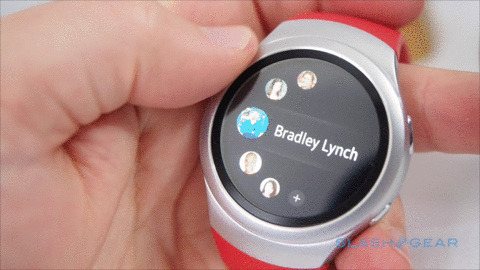 That's important, as it's going up against an equally well-considered wearable control: the Apple Watch's Digital Crown. Much discussed when the smartwatch was first announced, Apple's tiny, knurled wheel is a tactile treasure, rotating smoothly until the haptics pulse – so realistically there are some who swear the friction of the crown itself changes – to point out you're at the end of the list.
What's interesting is that both approaches have their roots in traditional horology. Apple was upfront after all about taking inspiration from the mechanical watch crown for its own Digital Crown on the Apple Watch.
When my colleague Vincent – who is something of a watch fan – first saw the Gear S2, however, he told me "it's just like the bezel on the Rolex Sky-Dweller."
Now, if you're unfamiliar with the world of expensive timepieces and haven't heard of the Sky-Dweller (I confess, I hadn't), you might have missed Rolex's 2012 announcement. Although it might look like a regular Rolex it has a patented bezel, rotating which allows the wearer to adjust the date, the local time, and a second timezone for reference.
Rolex's approach requires 60 different components for the bezel alone, and the watch carries a price tag in the region of $40k. Samsung hasn't announced Gear S2 pricing, but I'm guessing it'll be far more affordable.
Borrowing from the world of traditional watchmaking is a sensible strategy when it comes to easing smarter wearables into daily life, and designing intuitive solutions for keeping fat fingers out of the way of smaller displays (as well as giving people like me something to fiddle with) is equally important.
Google's Project Soli, for instance, plans to use radar to place virtual controls around wearables.
As for which I prefer – Samsung's wheel versus Apple's crown – the jury's still out; I'd need to live with the Gear S2 on my wrist for a while to know for sure. Still, if my first-impressions are anything to go by, the Apple Watch may be facing a bigger fight than Cupertino counted on.