The Gaming Guitar Stand - for when you're not rocking out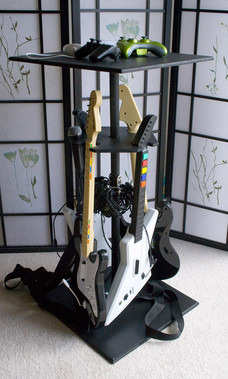 Anyone who has gotten addicted from the very first Guitar Hero game has likely gone on to buy the 2nd the 3rd and then if you had the cash, Rock Band too. Many of us have found our own solutions to storing the massive amount of controllers that come with all of the games. For some that means just leaning them against the wall or having one or two strewn about the floor yet some of us are making a bit of an attempt to appear like full grown adults and try to hide store them in a slightly more attractive way.
The stand from Dude Thing Creations is created to solve that issue. It holds up to four different guitars and a microphone. The regular controllers can be tossed on its shelf as well. It is made entirely of wood and requires some assembly.
They are also working on something to help store the drums a bit better. There are hooks at the center of this stand to keep the cords from hanging down as well. New versions will be coming soon that are sanded and have a coat of polyurethane to make it look a bit more sleek. It is being sold for $55.
[via kotaku]