The Galaxy S7 Active's one key feature (it's not just rugged)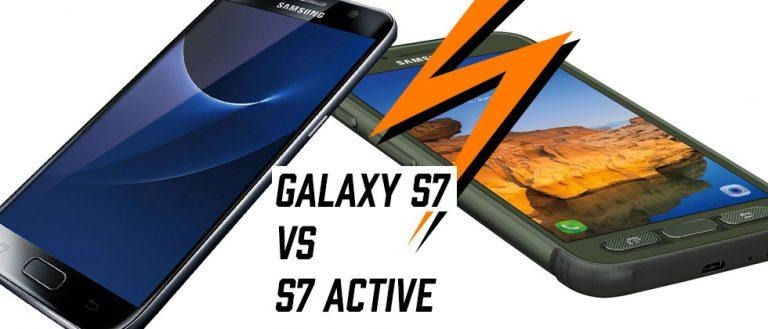 Today we're having a peek at the differences between the Samsung Galaxy S7 and the Samsung Galaxy S7 Active. Spoiler alert – there aren't many of them. The big differences lie in the look of the casing for the devices, the ruggedness therein, and the battery. Unlike the Samsung Galaxy S7, the Active model has a battery that's so extremely large, it'd be difficult to use it all up in a single day. Really difficult. Tablet battery-sized difficult.
What you're about to see is a simple chart showing the differences between the Galaxy S7 and the Galaxy S7 Active. You'll see three red stars showing the places where the Active model differs from the standard Galaxy S7.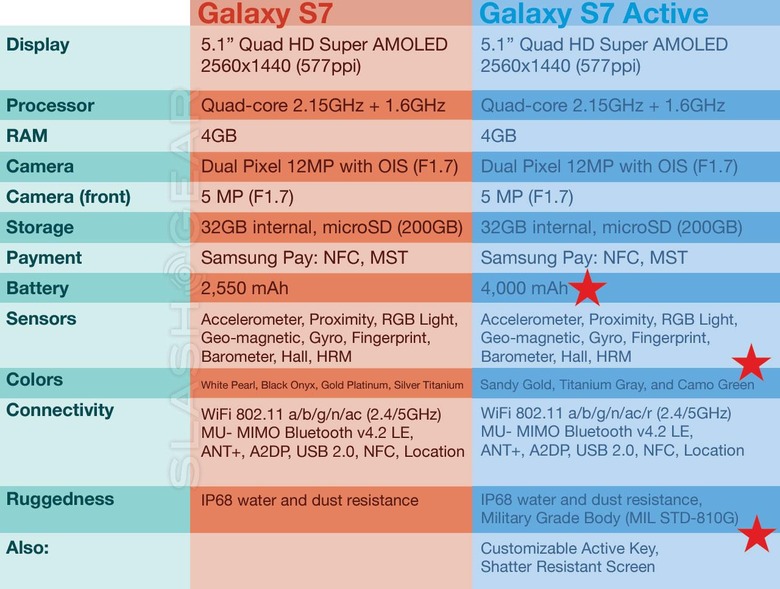 One other place where one differs from the other is in size. The Active model is a bit bigger than its non-Active brethren – as it has been with the past several Active models.
Galaxy S7 Active
148.8 X 75.0 X 9.9 mm
Weight: 185g
Galaxy S7
142.4 x 69.6 x 7.9 mm
Weight: 152g
The Galaxy S7 has a glass front and back, while the Galaxy S7 Active has glass up front and some heavy-duty durable plastic around the edges and back. Military-grade hardcore.
But all that pales in comparison to the size of the battery inside this Active smartphone. The Galaxy S7 already lasts around a full day with regular use – the Galaxy S7 Active's much more giant battery is sure to push that activity to well over a day.
Or – since it is meant to go with you when you're headed out into the wild, you'll need extra battery because you'll be taking lots of photos and recording lots of video. Lots and lots. In places you'd normally never think about taking a smartphone to. Places where you'd almost certainly destroy your phone if you'd dropped it. No worries about that anymore.
The Galaxy S7 Active is coming to AT&T this June 10th – that's a Friday. Have a peek at our first Galaxy S7 Active details article for another perspective if you do so wish.
Also head to the timeline below to see more on what the Galaxy S7 can do and the next Galaxy Note could very well be.