The Ford Ranger Raptor is real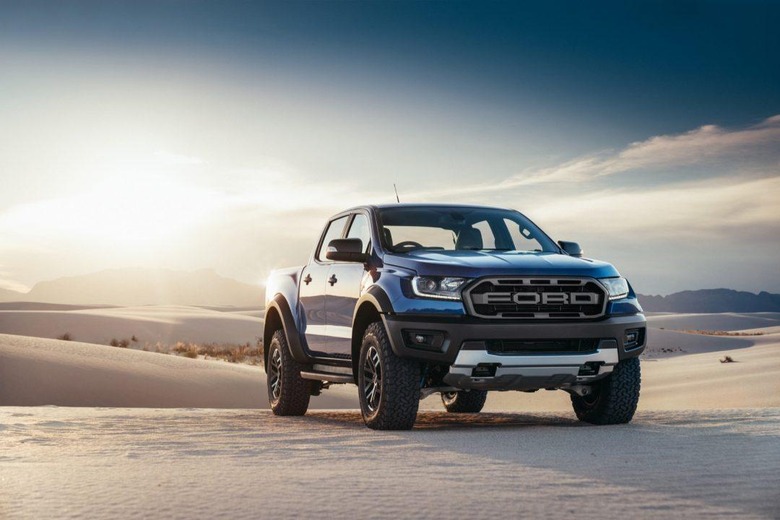 We wanted a Ford Ranger Raptor, and now it's here, but those wanting just a smaller version of the beastly F-150 Raptor truck will find a few surprises. The new sports pick-up takes the midsize Ranger and gives it a performance makeover, borrowing styling cues from the larger Raptor for the promise of just as much fun in a slightly smaller footprint.
At the front, that means a big new grille with an oversized "FORD" logo, together with a frame mounted front bumper with new LED fog lamps and functional air-curtain ducts. These keep the air resistance of the body down. The front fenders use a composite materials for better resilience against grit and rocks kicked up while off-roading, and are flared to cover the oversized tires at the end of their lengthened suspension.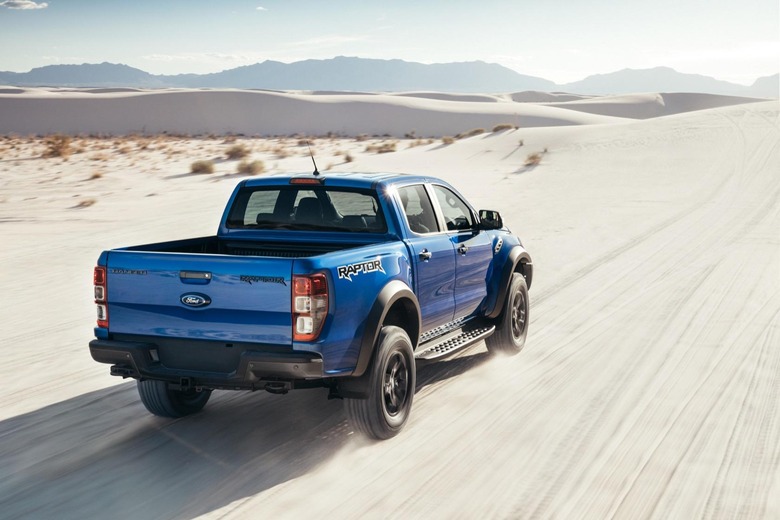 Indeed, all of the exterior dimensions – and the clearances – are up over the standard Ranger. It's 74 inches tall, 86 inches wide, and 213 inches long, while the ground clearance has been increased to over 11 inches. The 32.5-degree approach angle, 24-degree ramp over angle, and 24-degree departure angle also comfortably best the regular truck.
Side-on, there are new high-strength aluminum alloy step boards which have been drilled through for draining sand, mud, and snow. They're also intended to stop rock spray from hitting the truck's rear. Ford powder-coats them, before applying a grit-paint to better survive the wild.
At the rear, finally, there's a new rear bumper with an integrated tow bar and two recovery hooks; they're rated a 3.8 tonnes. The sensor bezels have been redesigned so as to be flush – and thus less prone to damage – while the Ranger Raptor is rated for over 5,500 pounds of towing capacity.
Unusually, however, there's no vast gas engine under the hood. Instead, Ford has opted for a 2.0-liter bi-turbo diesel, with 210 horsepower and 369 lb-ft. of torque. Its two turbos see a smaller, high-pressure unit connected in sequence to a larger, low-pressure version. Thanks to bypass valves in-between, the engine can use both at lower engine speeds for more torque and responsiveness, or bypass the small turbo at higher engine speeds for more power.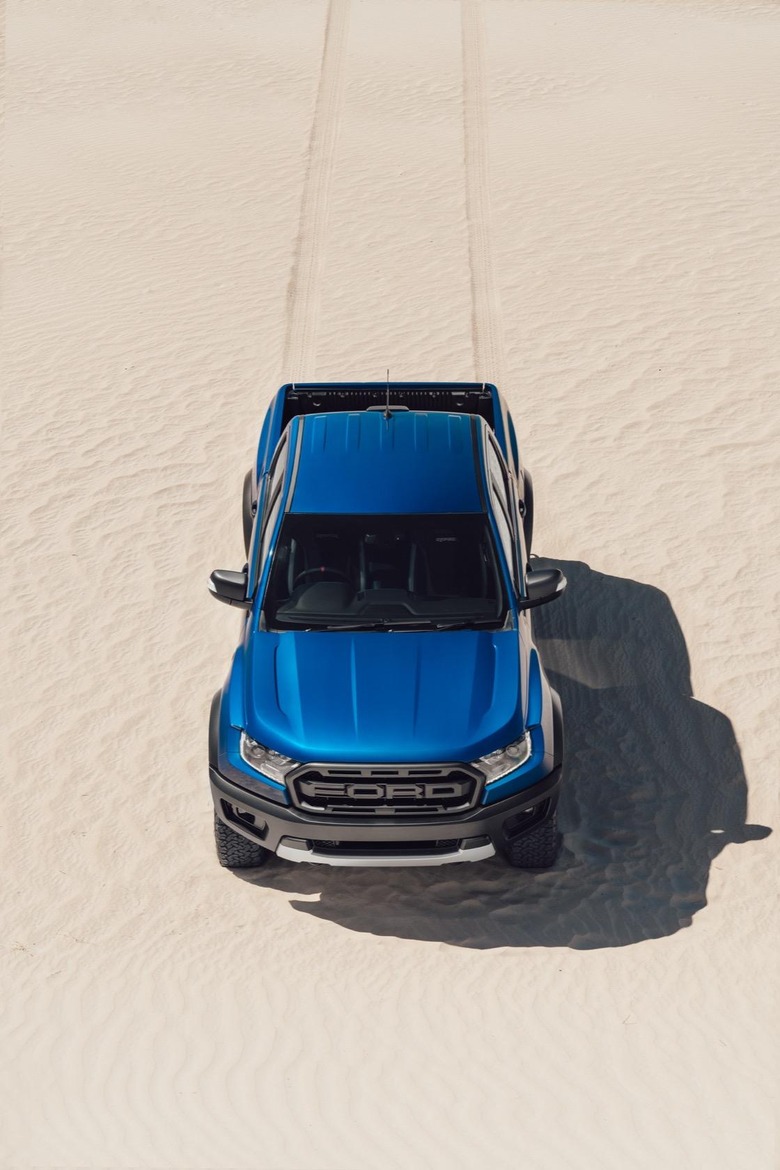 The 10-speed automatic transmission it's hooked up to has been borrowed from the F-150 Raptor, and there's all-new electronics for faster shifts. A "Live in Drive" function always allows the paddle-shifters to override the selected gear manually. The Terrain Management System, meanwhile, has a dedicated control on the steering wheel, and can be set to Normal and Sport mode for on-road driving, or Grass/Gravel/Snow, Mud/Sand, Rock, or the most epic Baja mode for off-roading. In Baja, the Ranger Raptor keeps the traction control at its most minimal, while the transmission sticks to lower gears.
Underneath it all, there's a new frame with coiler rear suspension with a solid rear axle. Ford has used high-strength low-alloy (HSLA) steel for the side rails and frame, to absorb high-speed impacts while off-road. The brakes are twin-piston calipers at the front with 332 x 32 mm ventilated rotors. Disc brakes at the rear have a booster for extra power, along with 332 x 24 mm robots and a new 54 mm caliper.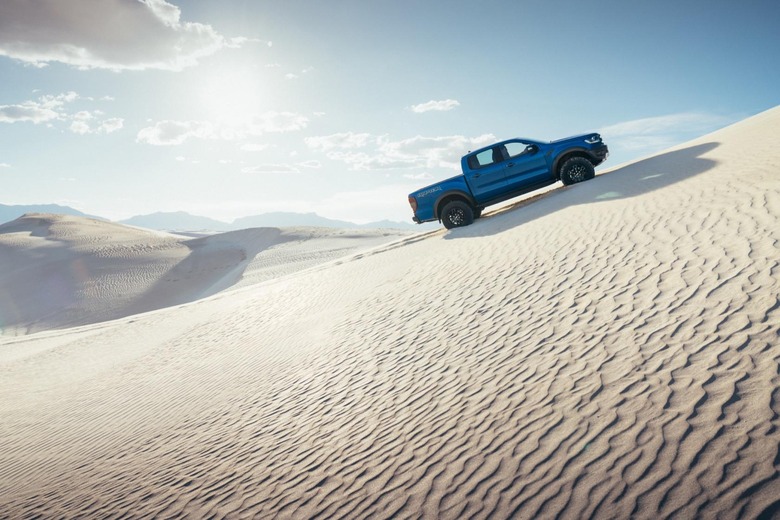 Position Sensitive Damping shock absorbers promise higher damping at full jounce and rebound, meanwhile. However they can switch to lower damping forces in the mid-travel zone, for better road performance. Ford opted for BF Goodrich 285/70 R17 all-terrain tires, each over 11-inches wide, and there's a new 2.3mm thick high-strength steel bash plate.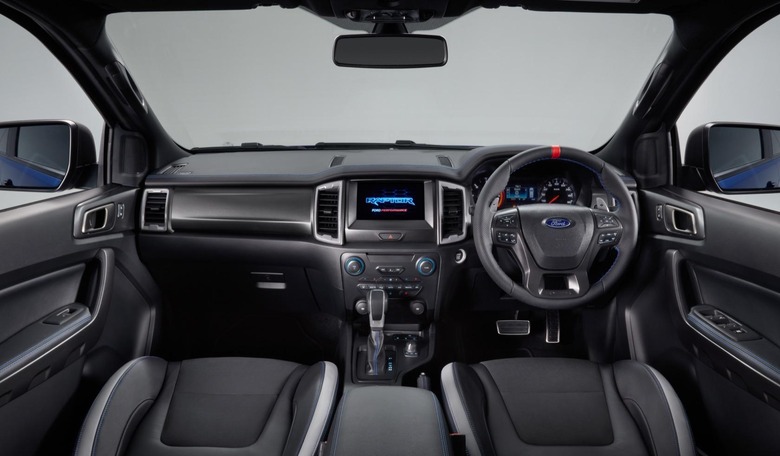 Inside, you'd never know you were in an off-road warrior. The upgraded seats promise extra support for bumpier terrain, with suede sections for more grip. Blue stitching and leather accents brighten things up, and there are magnesium paddle-shifters and a perforated leather-trimmed wheel. SYNC 3 is standard, and there's a navigation system with off-roading "breadcrumb" feature for when you're away from mapped asphalt.
Then comes the bad news. Though Ford has confirmed that the Ranger is coming to the US, for the moment that doesn't include the Ranger Raptor. Ford isn't saying "never" but, frustratingly, isn't giving us any idea of what the roadmap for the smaller Raptor might be on North American shores. The sports truck we see here will be headed to Asia Pacific and other regions first, pricing yet to be confirmed.