The Everlasting Kisses Kit - creates nausea for all around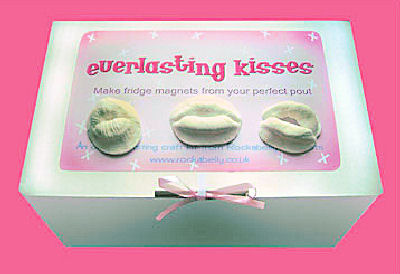 Warning, this product is extremely creepy and may make you vomit from disgust. I know most of us girls have at one point or another left a lipstick print somewhere. Be it our mirror, a letter or someone's cheek, most of us have done it. I'm pretty much guilty of all three, long, long ago. However, I have never made an imprint of my lips and turned it into a magnet.
Even the name turns you just a little green, Everlasting Kisses. The kit contains enough for three pairs of lips and comes out as a white. You can then in turn paint them red or something equally sappy. I'm not sure if anyone else has thought of this yet, but try to think what would happen if one of your more dirty minded friends got ahold of this kit. Perhaps you might even be the pervert of the bunch; if you were to combine the dough together from all three you could then fairly adequately make a mold of "other" body parts.
I'm pretty sure if anyone were to give me these as a sweet gift I would probably "lose" their phone number and possibly change mine. For around $40, you can either make a sappy gift that will last forever or create a really dirty magnet.
Make Your Own Kissy Fridge Magnets [via coolest-gadgets]