The emoji you've been waiting for: on Android Wear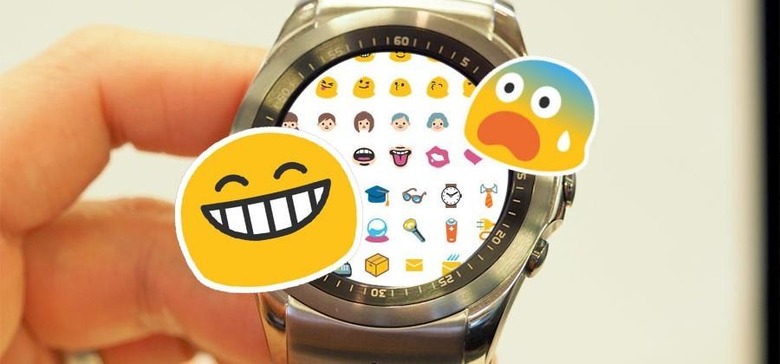 Those smartwatch owners jealous of their yet-unworn opponent watches with emoji can rest easy. Emoji replies to messages are here for Android Wear devices. Thank goodness, you must be thinking. You've been seeing the emoji pop up on Twitter, you've seen them in Google Hangouts. You've seen them everywhere but the place where they'd be best utilized. Here they are, at last, on your wrist. This bit of functionality will work with a connected phone, be it direct or with Wi-fi.
Wait a second, you might be saying – how would my smartwatch be connecting to the web with Wi-Fi? Why, with the rest of the Android Wear update this week. Google is enacting a number of abilities this week for Android wear, and near-phoneless connectivity is one of them.
To use the emoji bit, you'll be working with SMS, Hangouts, or any messaging app that's updated to feature the tiny faces and odd pictures. Users will see messages on their smartwatch and – barring their ability to reply with text via voice, they'll be able to draw.
"Just draw an emoji on your watch face," said Google this week, "and we'll recognize the closest emoji and send it over." Above you'll see a couple examples of quick emoji drawing on a circular Android Wear watch face. Look simple enough to you?
Have a peek at the timeline below for a number of other Android Wear updates this week and wait for that update – it'll be popping up for most devices today or in the next few days.