The Eclipse Laptop Sleeve from Brenthaven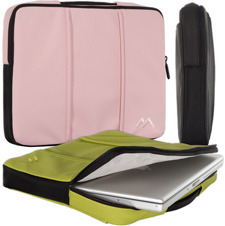 These Eclipse laptop sleeves are great for those who enjoy a more sporty look. After all, some may want a laptop bag that can actually take a bit of a beating. These Eclipse bags look rugged enough to take out on an afternoon hike, not that I'd carry my MacBook around in the woods of course.
The sleeves are specifically for the the MacBook fitting the 13.3", the 15.4" and the 17". The great thing is they not only feature a cute pink version but green and black as well. It features a layer of foam padding, a faux-suede interior and a slip pocket for any documents and papers you might need.
It also has an ergonomic retractable handle. The prices vary slightly depending on the size you want. The 13.3" and the 15.4" are both priced at $39.95. The 17" is being sold for slightly more at $44.95.
Brenthaven Eclipse Sleeves available for Christmas [via shinyshiny]