The Day of the Cheap Ereaders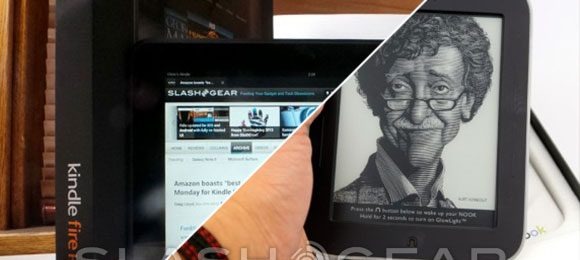 Today is the day that you're going to want to purchase one of two ereaders if you've not already done so – and if you want one, of course: both the Nook Simple Touch and the Amazon Kindle Fire HD have had their prices slashed this morning. The oddest thing has happened – two of the biggest competitors in the ereader space have discounted one of their hero devices – imagine that! Of course the Amazon Kindle Fire HD 8.9 is not even beginning to be the same sort of tablet as the Barnes & Noble Nook Simple Touch when it comes down to it, but they're both on the cut – and in Amazon's case, just for today!
We've had a peek at the Amazon Kindle Fire HD 8.9 very recently in our full review, this showing off how you're not just getting an ereader with this package, you're getting a full tablet. But not just a full tablet, mind you, an Amazon window into their full content library – don't expect an Android tablet here, it only runs the software under the hood. This device has a full-color display as well, nothing like the Barnes & Noble offering. The Kindle Fire HD 8.9 has been discounted by $50, this making the price closer to $250 USD in its least expensive iteration.
The Nook Simple Touch on the other hand is an ereader in every sense of the word. Here you've got an eink display and a size that's much tinier than the comparatively massive Kindle Fire HD 8.9. This machine has "16 levels of gray" and is made for reading text-based-books from start to finish. The hardware here is 6.5 x 5 x 0.47 inches and weighs in at a tiny 7.48 ounces, and the discount is permanent, it seems: $79 USD total, down from the $99 it was previously.
Have a peek at our lovely 2012 holiday gift guide for tablets as well to make sure you're up to date on all of the best-of-2012 action for the holidays. It might be time to decide between the ereader and the full tablet experience here at the dawn of 2013 – perhaps time for a switch?