The Dark Knight Rises gets tiny with MIMOBOTS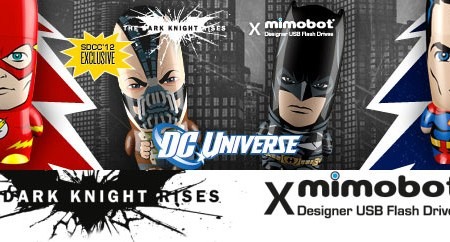 The ever-expanding line of fabulously designed USB Flash Drives from Mimoco continues to get bigger with MIMOBOTS Batman and SDCC 2012 exclusive BANE from the upcoming blockbuster film The Dark Knight Rises! These two bots are being put out in anticipation of the film's July 20th release and come packed with special Mimory and mimoDesk suites of screensavers, wallpapers, and avatars galore. Both these bots and the newly announced Superman and Flash flashdrives (ironic greatness!) they'll be available in up to 64GB sizes!
The folks at Mimoco don't mess around when it comes to releasing these lovely little beasts, both of them fabulous examples of how the group can go big with a release in the video you're about to see below. These bots are released in collaboration with Warner Bros. Consumer Products on behalf of DC Entertainment and will be busting out extremely soon! Also note: the Bane character will be limited to 500 pieces and will be released at SDCC for people at the convention in-person only!
Superman is also about to be available with his lovely blue curled hair and Yellow S-symbol on Red Cape, a classic container for no less than your most valuable data in need of transport. The same is true of The Flash, made into a MIMOBOT designer USB flash drive in as ironic a was as possible. As Mimobots note: "Could there be a more perfect character for a character-based flash drive?" Heck no! Head over to Mimobots online shop to see what's available now – no one drive is unlimited!