The Cold water Coffee Table Aquarium by Clear-Seal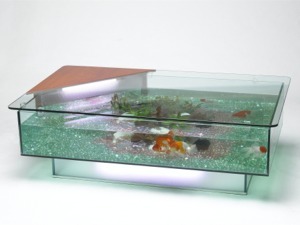 Nothing says bachelor pad like a strangely placed aquarium. One thing you should probably think about is that having an aquarium coffee table makes you look a bit like a pimp.
These crazy coffee tables range anywhere from $2,000 to $3,000. Just don't go running out to get one if you are even slightly clumsy. I'd be afraid that I'd trip over the corner of a rug and take the whole thing out.
The tank is equipped over a unique filter system that allows for as little maintenance as possible. It does come with all the plants and rocks which are specially made for the tank.
Coffee Table Fish Tank by Clear-Seal [via cribcandy]