The Circuit Board Mouse Pad - poorly thought out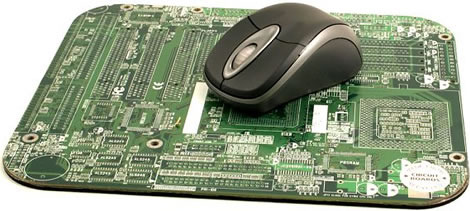 Anyone who has enjoyed looking at the products that come from recycled circuit boards will enjoy this mouse pad. As with all circuit board products it is made of old useless ones, although this one has a slight snag with the purpose of its direct function.
The circuit board mainly meant as a mouse pad, but with the slight side function of the ability to be used as a place mat, has a slight snag. Anyone using an optical mouse has been warned against using this particular mouse pad, by the sellers. It might apparently run into a slight problem due to the reflective surface. Therefore only those using a mouse with one of those outdated rolling balls on the inside can actually use one of these.
One might think that since most people use optical mice now that they might have decided to rethink using a circuit board for a mouse pad, but no, they gave it a shot anyway. It is being sold for about $16.
[via geekalerts]