The Cigarette Shaped Lighter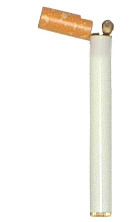 I don't smoke, however, I have friends that do and they are constantly looking for a lighter. This cigarette shaped lighter would be a fairly convenient solution.
Just stick the lighter in with your cigarettes and you won't be looking for your lighter in those dark scary areas of your purse or staring angrily at that hole in your pocket. This might not work for you though if you smoke those cigarettes that are all of 3 inches long (trust me they exist).
Just flick the filter and the lighter will flare up. This lighter is only $3.99 and I'm sure if it hasn't already, it will end up on the counter of gas stations everywhere.
Cigarette Cigarette Lighter [via nerdapproved]