The Bugatti Chiron is $2.6m of 1,500 HP excess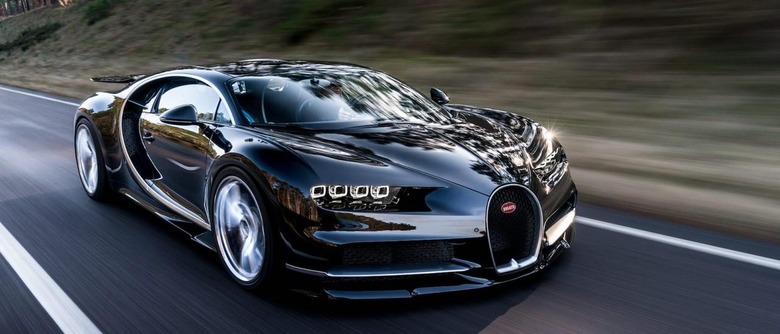 The Veyron is dead: all hail the
Chiron, 1,500 horsepower of insane luxury coupe. Making its long-awaited debut at the
, the Chiron takes the Veyron equation of a huge engine, ridiculous top speed, and opulent accommodation and cranks it up even higher, with a newly-developed W16 engine packing 1,180 lb-ft of torque.
That means a massive top speed, and in fact the Chiron is capable of over 260 mph. It'll be artificially limited to less than that on the road, mind – you need a special, second "Speed Key" to unlock it – but Bugatti is already talking about setting new world records for production car speed.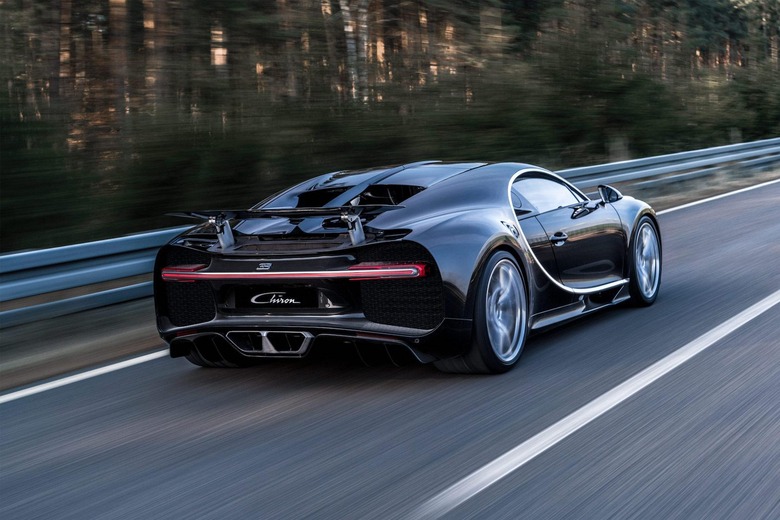 The W16 engine, paired with a 7-speed dual-clutch transmission and all-wheel drive are good for a 0-62 mph time of under 2.5 seconds, the company claims. When you're dealing with this sort of power, mind, everything has to be up to the job: the gearbox can handle up to 1,600 Nm, for instance, and has the largest, highest-performance clutch seen on a passenger car.
An increased use of carbon fiber – both the monocoque and the body are made of it – means the Chiron is 8kg lighter than the Veyron it replaces. Bugatti has even selectively weakened it in points in the name of safety: the passenger airbag, and the side airbags, both deploy through the carbon fiber.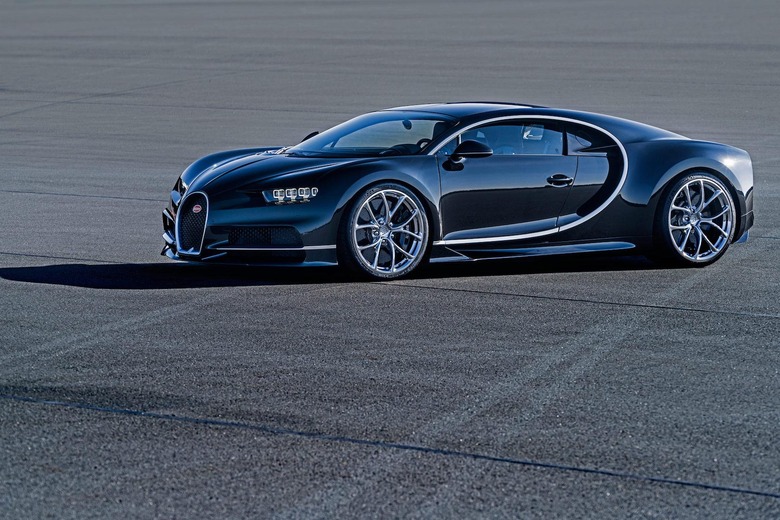 Underneath everything there's an adaptive chassis, a first for Bugatti, with five modes: Lift, EB "Auto", Autobahn, Handling, and Top Speed. Huge Michelin tires are specially developed for the car, too: 285 / 30 R20 at the front, and 355 / 25 R21 at the rear. The Chiron uses torque factoring, courtesy of an electronically controlled inter-wheel differential lock, and carbon ceramic brake discs – made from carbon silicon carbide (CSiC) – that are larger and thicker than those on the Veyron.
They're paired with eight titanium front-axle brake calipers, and six titanium pistons on each caliper of the rear axle.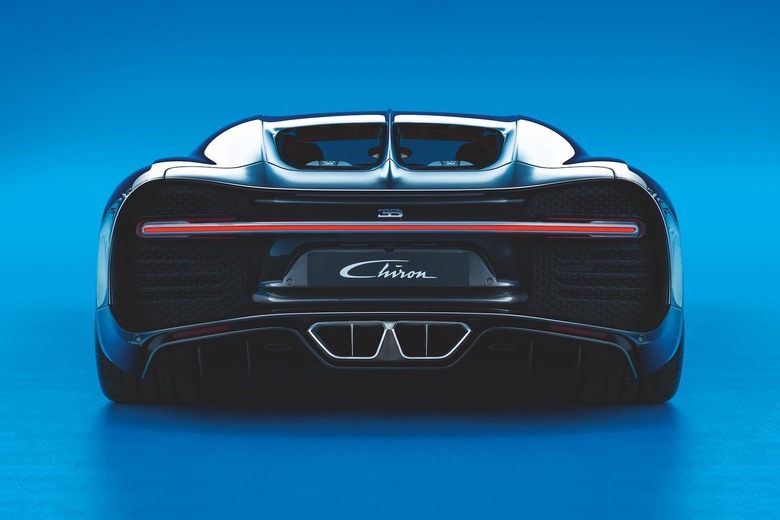 As for aero, the most noticeable component is the huge, movable rear wing. That has four possible positions, starting out completely retracted, then slightly extended in Top Speed mode, before being completely extended for Handling and Autobahn modes, each of which use different angles. Finally, it can be tilted forward to act as an air brake.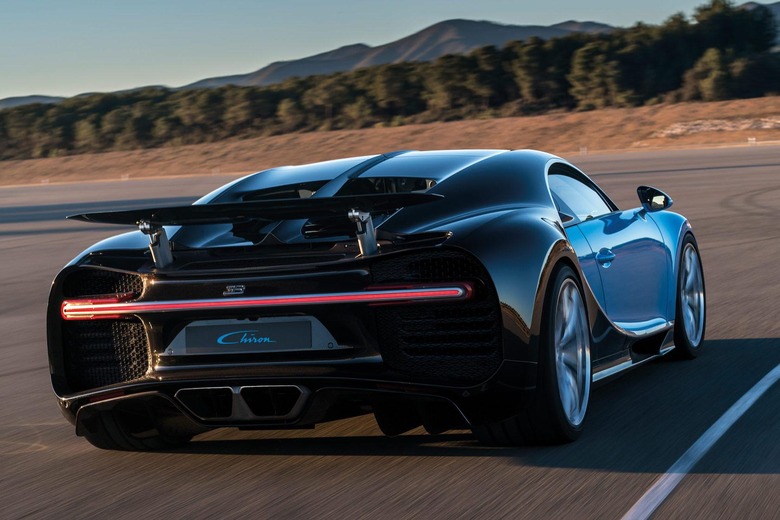 Inside, there's a mixture of an analog speedometer with various digital displays, while the center console is pared back to just a few controls. That's where you'll find the transmission selector, along with four, circular HVAC switches with displays under their coverglass.
Those displays normally show things like temperature and fan speed, but they can be repurposed for performance data such as if you're on the track. Bugatti has four preset modes: Icon, Performance, Cruise, and Classic.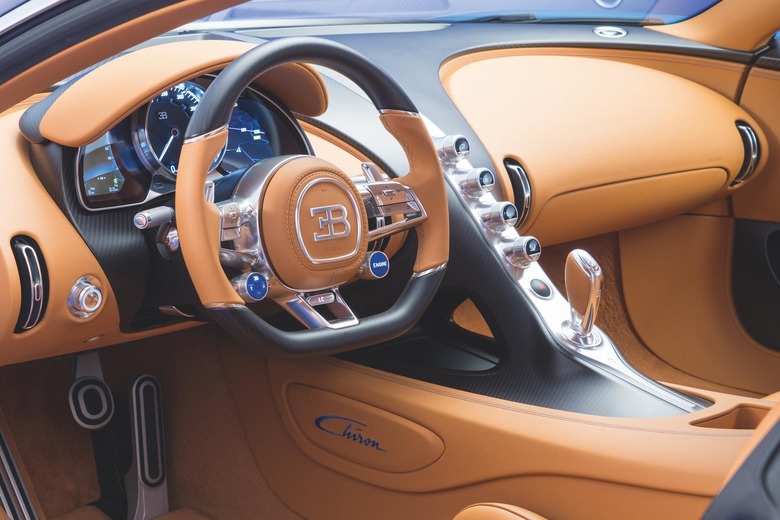 Entertainment comes courtesy of a custom accuton stereo system, which uses one-carat diamond membranes in each of its four tweeters, a twin-membrane mid-range speaker, and customization to even the type of leather used to trim the cabin.
Bugatti has also built in cellular connectivity and a WiFi hotspot, and the whole car has apparently been electromagnetically hardened to military standards, in the case of some sort of attempted cyber-attack.
And the cost of all that power, luxury, and sheer excess? Bugatti says the Chiron kicks off at the equivalent of $2.6m, but if you thought that would dissuade buyers then think again.
Apparently a third of the planned total run of 500 cars have already been pre-sold. They'll ship from fall this year.
[gallerybanner p="429448"]