The Bling Player is ready to hit the streets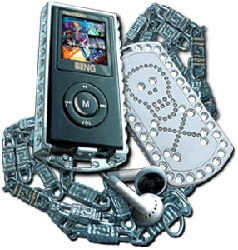 Just for the record, Bling Player, that is the actual product name. That's not something I made up to be funny; they actually dubbed it as that. The Bling Player is a media player from MediaREADY.
This little guy comes ready-made with a case all decked out with cute manly crystals and a skull and crossbones on the front. Frankly, I think that is the worst skull and crossbones I've seen in a while. If you're going to do it, at least make it look semi-cool. I'm not really sure what will happen when or if this thing hits the mainstream. Is this the media player that makes you the big tough guy, or is it the one that gets you beat up?
It features a 1.8" display, MPEG 4, MP3 and WAV file format support, an FM tuner, and a voice recorder. It's priced at $199, which I'm sure is a small price to pay for functional bling.
BlingPlayer from Media READY [via shiny shiny]