The Auto tech wake-up: Free iPads and Apple-trained tutors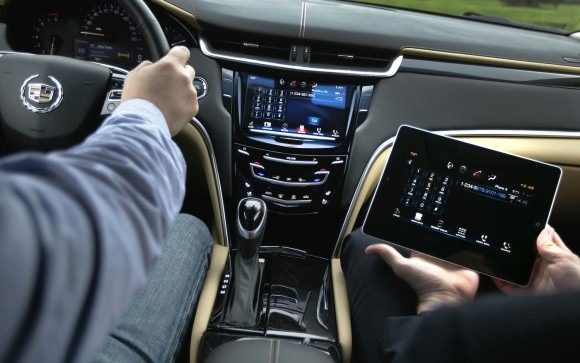 Fiendishly complex car dashboards aren't just a concern to safety regulators but auto manufacturers too, worried that new buyers may not only fail to use gadgetry-packed vehicles but may come to resent them. Cadillac's new 2013 ATS may be tempting gas-heads with its sharp styling and engine options, but the fact that the GM-owned company will throw in a free iPad – preloaded with a new CUE training tool to help owners get the best of their car – should help take some of the sting out of the touchscreen dashboard too. It's not just Cadillac which is reacting, however; other car manufacturers are even raiding well-known computing firms for their tech tutor talent.
Lexus dealerships have begun looking to firms with a reputation for clear, understandable advice such as Apple for their in-showroom staff, one dealer tells the WSJ. Its in-house "technology specialist" – previously an Apple Store employee – talks through new owners in dedicated handover sessions, helping them hook up their phones, set up voice dialing, personalize navigation and sync multimedia.
Mercedes, meanwhile, has 11,000 trained employees across the US, equipped with 1,300 specially purchased iPads, that pull the exact specifications of each new car from the VIN (vehicle identification number) and create custom tutorial guides. As well as the expert advice, there are videos showing some of Mercedes' more technical features; by tailoring the content based on what standard and optional features the car has been outfitted with, there's no confusion around aspects being missed out or incorrectly mentioned.
Cadillac CUE iPad app demo:
[vms 7741d191c0d2b82cea7b]
Cadillac will offer OnStar drivers technical advice for their in-car systems at the touch of a button, and will fly 25 newly-trained specialists around to bring showroom staff up to speed. The CUE app for iPad is a free download [iTunes link], though you'll need an access ID and password for GM Global Connect to actually use it.