The 2019 Ford Puma cute hybrid crossover brings disappointing news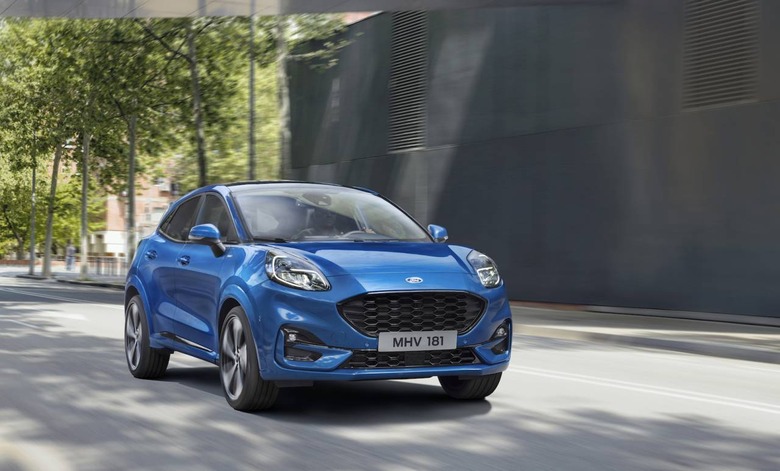 Ford has revealed a punchy little crossover, the new 2019 Ford Puma, but don't hold your breath to see it on American roads. Rebooting the Puma name from the original compact coupe discontinued in 2002, the new Puma sticks with the automaker's trend away from cars and toward utility, throwing in some mild-hybrid action along the way.
It's a handsome little car, certainly. Based on Ford's B-car platform, it eschews the usual "wedge" crossover profile in favor of a flatter belt-line. Oversized wheel arches and a stretched out wheelbase help there, too, and there's a "floating" A-pillar that visually pulls the cabin further back on the small SUV.
At the front, there are "canoe-shaped" headlamps and LED fog lamps, the latter integrated into functional air curtain inlets. They're designed to guide airflow across the front wheels, and cut down on turbulence. At the rear, there's a 16.1 cu.ft. trunk – the largest, Ford says, in the Puma's class – capable of holding two upright golf bags.
That's courtesy of a flexible trunk floor, which can be height adjusted or closed to make a bin for muddy or wet items. Ford has dubbed it the MegaBox, and given it both a waterproof lining and a drain plug in the bottom. A hands-free tailgate opens the trunk when you kick your foot under the rear bumper.
Ford will offer both Puma ST-Line and Puma Titanium trims, among others, differentiated outside and in with different wheels and finishes. The 2019 Puma ST-Line, for example, will have either 18- or 19-inch matte black machined alloy wheels, along with sports supsneion. It'll also get matte black elements to the grille, gloss surrounds, and an optional larger roof spoiler. Instead, there'll be a flat-bottom steering wheel and optional partial leather seats.
The 2019 Puma Titanium, meanwhile, has Pearl Gray machined 18-inch alloy wheels, and more chrome outside. Inside, there's a leather-effect wheel and wood-effect trim on the dashboard.
Under the hood, Ford's move to electrify all its models continues with some mild hybridization. The Puma gets a 1.0-liter EcoBoost with a 48V system – paired with a seven-speed automatic transmission – that can add torque to the three-cylinder. It'll be offered in 123 hp and 153 hp configurations. Thanks to the hybrid, torque should come in lower in the rev range, and also help avoid turbo lag.
On the tech side, there'll be Ford Co-Pilot360 active safety tech, Local Hazard data powered by HERE that includes warnings about broken vehicles, animals on the road, and other problems up ahead, and a 180-degree rear view camera. Blind spot warnings and cross traffic alerts are available, too, as is parking assist. The dashboard gets wireless charging, too, and even the option of massage seats and a B&O 10-speaker audio system.
Unfortunately for those of us outside of Europe, right now there's no sign of Ford bringing the 2019 Puma to the US. Despite its push for utilities, what's shaping up to be an appealing little crossover apparently has no future on North American roads. That seems a shame, but Europe will get to try the Puma out from the end of the year.