The 2018 Mustang Cobra Jet is instant drag racer royalty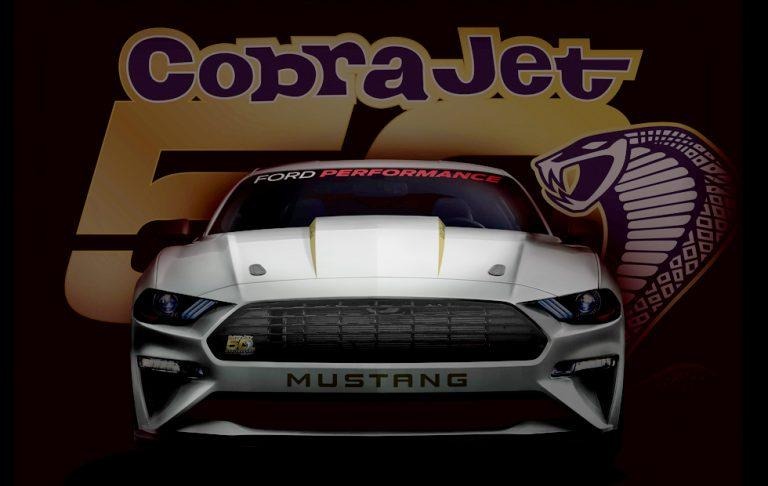 When it came to marking the fiftieth anniversary of its iconic Cobra Jet line, Ford Performance didn't think small. Welcome, therefore, the achingly fast – and vanishingly rare – 2018 Mustang Cobra Jet, billed as the fastest and most powerful of the factory-produced cars in their five decades of existence.
The first Mustang Cobra Jet arrived back in 1968, four year after the original Mustang made its debut. The idea was simple: Ford has seen the coupe build instant popularity among those who value straight-line speed above all else, and decided its own in-house team could do just as well as third-party tuners. That began a long legacy of cars that eschew public roads in favor of track use.
Of the lineage, however, nothing models that goal quite like this new 2018 Mustang Cobra Jet. Under the massively swollen hood is a 5.2-liter Coyote V8, freshly fettled by the Ford Performance team to make this the most monstrous of them all. Final power figures haven't been shared yet, teasingly, but Ford isn't being so coy about the drag results.
The new Cobra Jet will do the quarter-mile in the mid-8-second range, the automaker promises. It'll keep going, too, to over 150 mph.
It took more than just a beefy engine to do that, of course. Ford Performance dropped in unique four-link suspension, together with a Ford 9-inch solid rear axle from Strange Engineering. Inside there's an NHRA-certified roll cage, along with Racetech FIA seats. Finally, there's a drag race-specific coil-over suspension with specially designed Weld Racing wheels with 50th anniversary badging.
Just 68 of the cars will be made in total, with buyers able to choose between Race Red or Oxford White paint jobs. Don't get any ideas about making it a daily driver, however. Ford says the 2018 Mustang Cobra Jet will be non-VIN, so you won't be able to register it for on-road use.
The flip side to that is the car being legal for National Hot Rod Association drag racing, Ford promises, in addition to several National Mustang Racers Association and National Muscle Car Association classes. If you've been wanting to show your 840 horsepower Dodge Demon owning friends what shame feels like, this could well be the car to do it in.
We'll see the order books open up this coming summer. Ford says it'll detail the full specs closer to that point, as well as confirming pricing.