The 2018 Aston Martin Vanquish S Volante is drop-dead gorgeous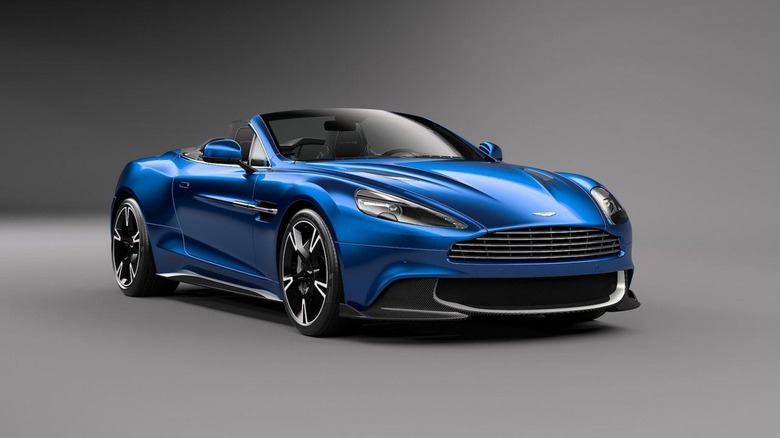 Beauty may be in the eye of the beholder, but I suspect it'd be an unusual critic that called the 2018 Aston Martin Vanquish S Volante anything other than stunning. The droptop version of the (hardly ugly) Vanquish S that made its debut last November, the Volante version chops off the roof for some open-air cruising. Just like its coupe cousin, however, there's no shortage of power or speed.
Both come courtesy of a 6.0-liter V12 engine. Unfortunately drivers in the US find themselves at a mild disadvantage when it comes to power: in Europe and Aston Martin's native UK, the V12 is good for 595 horsepower. Over in North America, however, it's good for 580 horsepower.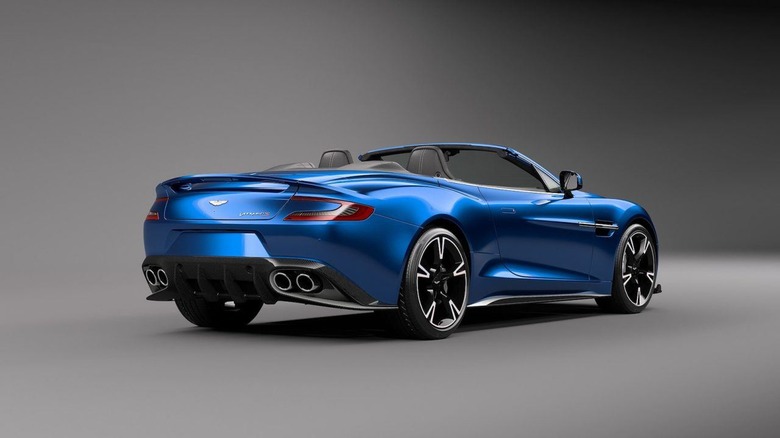 Deal-breaker? Probably not, and it's hard to imagine that the US-spec Vanquish S Volante would be noticeably slower to 62 mph than the 595 HP model. That number, and indeed top speed, are yet to be confirmed, though are 3.5 seconds and 201 mph respectively for the coupe. As with that car, the Volante gets a standard eight-speed Touchtronic II transmission that Aston promises has been tuned for silkier shifts.
At the rear there's a limited-slip differential, while the suspension is the same independent double wishbones with coil springs, anti-rollbar, and adaptive dampers front and back as per the coupe. Three drive modes – normal, sport, and track – for the adaptive dampers have been added, while the brakes are ventilated all round. Front wheels get 398 mm diameter disks with six-piston calipers, while rears get 360 mm diameter disks with four-piston calipers.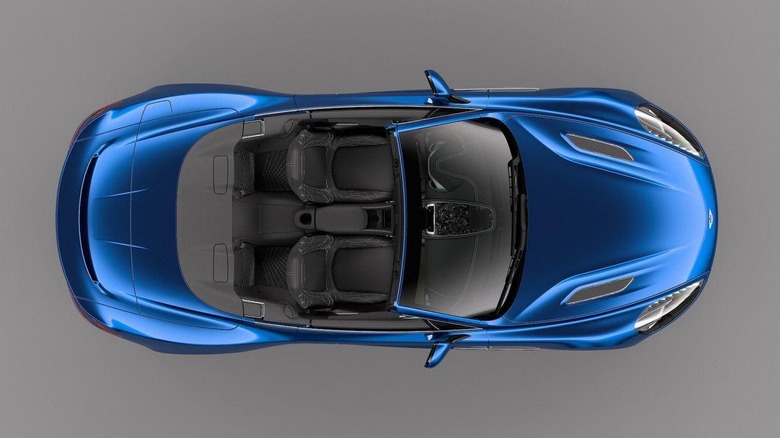 Curb weight stays relatively low courtesy of the carbon-fiber body, and there's a new 2x2 twill front splitter and rear diffuser for high-speed stability (and, let's face it, looks) that are also made of the lightweight material. Quad-exhaust tailpipes give the back some sparkle, and there are revised inlet manifolds for improving the engine airflow. Inside, there's the same quilted leather on the seats as in the coupe, together with Aston's latest AMi III Infotainment system and a 1,000 watt Bang & Olufsen audio install.
All in all, this looks like a pretty special way to catch some sun while driving very, very fast. Aston Martin hasn't confirmed final pricing for the 2018 Vanquish S Volante yet, but the range as a whole kicks off at $312,950.