That's just wrong: Mozilla releases Firefox with Bing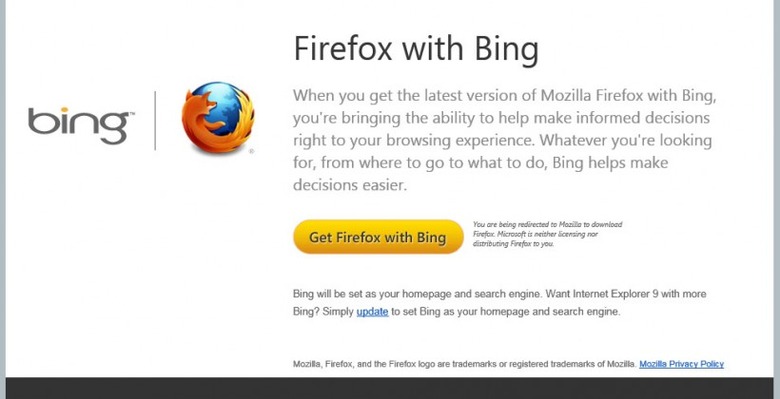 Here's some strange bedfellows: Mozilla and Microsoft. The developers of the open-source favorite have released "Firefox with Bing", a modified version of Firefox 7 that features Microsoft's branded search engine integrated into its services and interface. Current Firefox users who want to "upgrade" their experience can download a Bing add-on that does the same thing.
Long-time Firefox users may feel a little strange using the different version. The browser's "Awesome Bar" and search bar has defaulted to Google for years. Mozilla's contract with Google, which pays the open-source developer a minute amount for every search that originates from the search bar, is up for renewal next month – maybe they're looking for a little leverage. For Microsoft's part, they seem thrilled to offer their services: "We are excited to make it even easier for members of the Mozilla Firefox community to use Bing," said employee Tor Steiner.
If you're at the intersection of the Bing/Firefox Venn diagram, you'll be happy to know that Firefox with Bing works with all current themes and add-ons. You can even – gasp! – add Google or other search engines to Firefox with Bing, if you'd like to try your best to destroy the Internet from the comfort of your laptop. Or you could, you know, just use Internet Explorer. Version 9 is actually pretty okay.
[via PC Mag]