Tetris Effect PC release slated for next week as Epic Games Store exclusive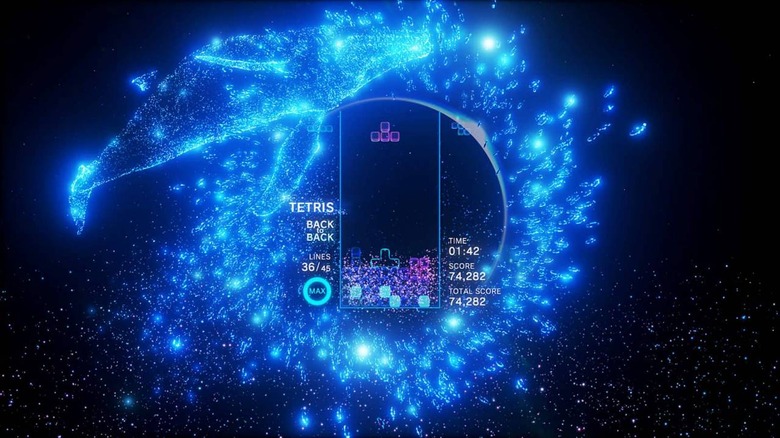 After an exclusivity stint on PlayStation 4, Tetris Effect is heading to PC next week. When it arrives, it'll be compatible with Oculus Rift and HTC VIVE headsets – an announcement that isn't too shocking, considering that the game is compatible with PlayStation VR on PS4. If you're a Tetris fan and you don't have a PS4, Tetris Effect is definitely worth checking out when it comes to PC next week.
In fact, we named Tetris Effect one of the best games of 2018. The gameplay will be instantly familiar to anyone who's ever played a Tetris game before, but the music and often trippy visuals elevate the package as a whole, turning it into something of a feast for the senses. It's a little strange to think that after 35 years Tetris is still evolving, but Tetris Effect is definitely proof of that.
In any case, it appears that the PC version of Tetris Effect will be an Epic Games Store exclusive. Epic's announcement describes the PC release as "the ultimate edition of Tetris Effect," with support for 4K resolution and uncapped framerate, assuming you've got V-Sync turned off. Epic also says that you'll have more graphics options in the PC release, which include particle volume and size and texture filtering.
Tetris Effect will launch on the Epic Games Store on July 23rd. It's keeping the $40 price tag from the PlayStation 4 release, but if you pre-purchase the game, you can get it for $31.99. Epic is also throwing in some pre-order bonuses, which include 10 Tetris Effect desktop wallpapers in 4K and an "original soundtrack sampler" that comes with 7 tracks.
It's worth noting that you don't need to pre-order to game to get those bonuses, as anyone who purchases the game within the first two weeks after release will get them as well. So, if you're hesitant to pre-order the game because you're not sure how the PC port will run, you can wait for a verdict from early adopters and still get those bonuses as long as you buy before August 6th.