Tesla's Gigafactory fires up battery cell production line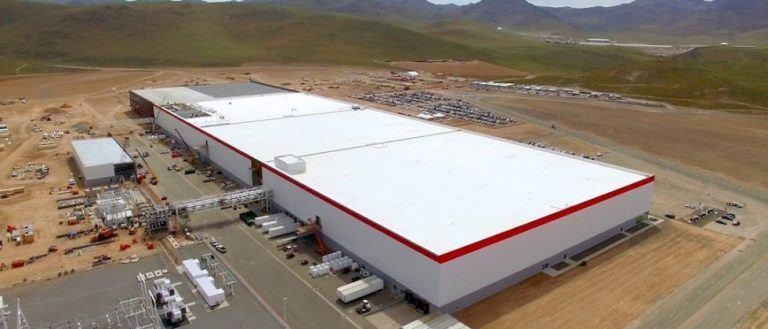 Hot on the heels of the reveal of Faraday Future's FF 91, Tesla has its own news to share. Tesla may not be revealing a new car today, but what it is doing could potentially be just as big: the company announced today that is has flipped the switch at its Gigafactory in Reno, Nevada. It's here that Tesla will be producing lithium-ion battery cells for use in its electric vehicles and energy storage devices.
What is perhaps most impressive about this news is that the Gigafactory isn't even finished yet, despite the fact that it's already producing battery cells. This has been the plan from the start, with Tesla and manufacturing partner Panasonic building the factory in phases. This allows the companies to begin producing products ahead of the Gigafactory's planned 2018 completion date.
Even with a current footprint of 1.3 million square feet, Tesla says construction on the Gigafactory is still less than 30% finished. Once it's finally complete, Tesla says, it's expected to be the largest building in the world. With that in mind, it's no surprise that Tesla expects to double the world's battery production, predicting that a finished Gigafactory will be capable of outputting 35 GWh of battery cells each and every year.
The lithium-ion battery cells that are entering production today will first be used in Tesla's Powerwall 2 and Powerpack 2. Specifically, this is the 2170 cell that gained qualification last month. In the second quarter of this year, the Gigafactory begins producing the cells that will be used in the Tesla Model 3.
The Gigafactory will be a pretty big boon for jobs, too. Even ignoring the construction jobs it creates, Tesla expects 6,500 permanent jobs to be created when construction on the Gigafactory is complete. The Gigafactory has the added benefit of decreasing costs for Tesla and any other manufacturing partners that may set up shop there, thanks to the scale that automation allows.
With production on the Gigafactory only partly complete, we can absolutely expect to hear more about in the near future. It's already an impressive facility at 30% complete, but it's going to be an absolute monster when it's finished in 2018. Check out the timeline below for more on the Gigafactory!