Tesla's 2020 Robotaxi plan is peak Elon Musk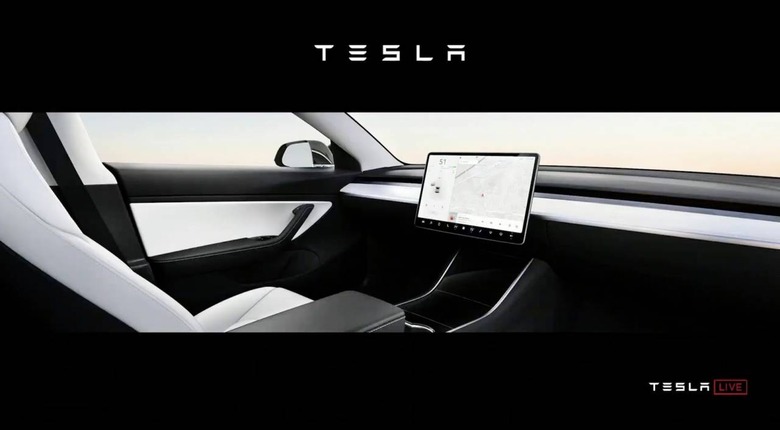 Tesla believes it can have a Robotaxi service operating as soon as 2020, with owners of the company's EVs able to add their cars to a ride-sharing Tesla Network fleet. Speaking at Tesla's first Autonomy Day, at which the automaker pulled back the curtain on some of the work it had been doing on self-driving vehicles, CEO Elon Musk outlined an aggressive – and at times confusing – vision of self-driving taxis.
"We expect to have the Robotaxis operating next year – with no-one in them," Musk predicted. Owners of a Tesla vehicle would be able to add their car to the ride-sharing fleet by tapping an option in an updated version of the existing Tesla app, he suggested. Conversely, someone needing a ride would be able to tap a "Summon Tesla" button to request a car.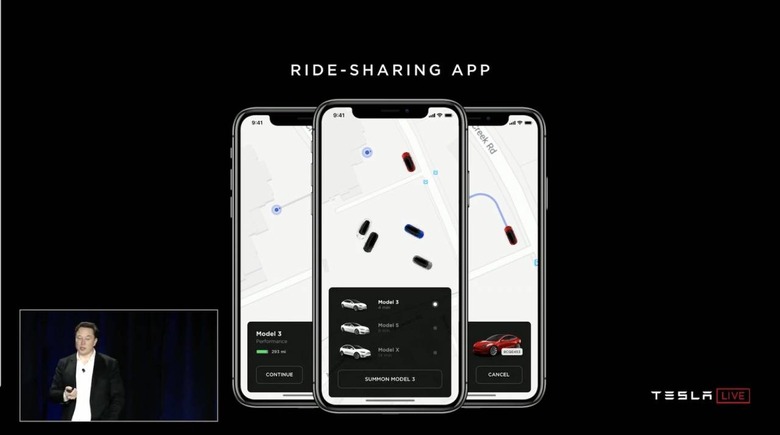 There'll be control over who can borrow the car, too. Owners will be able to select that their vehicles will only be shared with friends and co-workers, or social media friends, for example. They'll also be able to limit availability to the Tesla Network at particular times.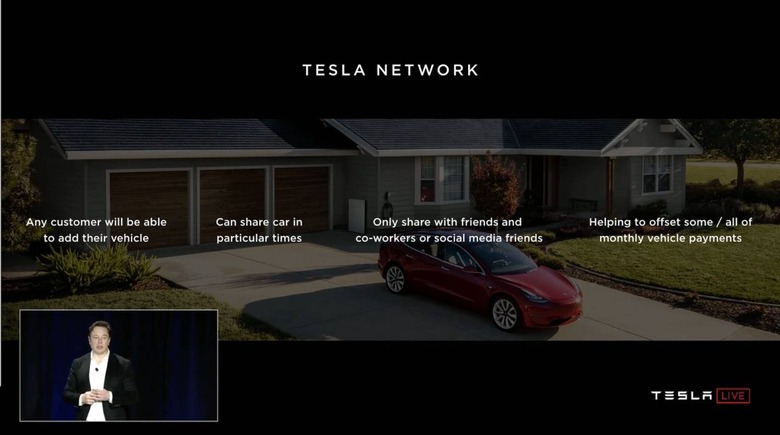 In areas where there'd be limited numbers of cars from actual Tesla owners, meanwhile, Musk says that the automaker itself would add vehicles. When Tesla added lease options to the Model 3 earlier this year, for instance, it added a clause that the EV would not be available to purchase at the end of the lease period. Instead, Tesla intends to reclaim them and use them for its own fleet.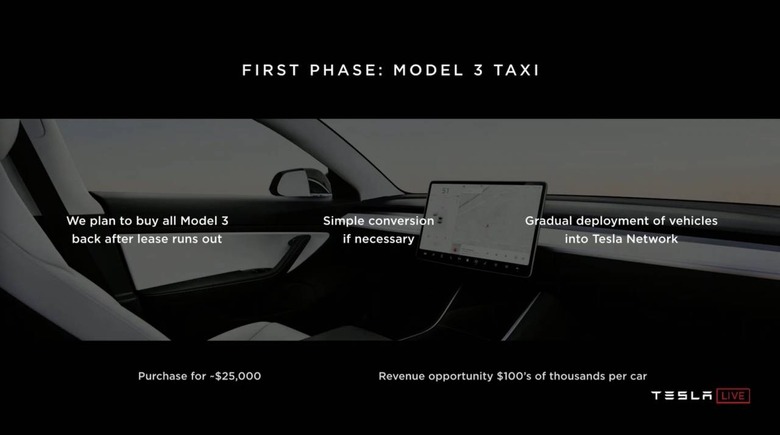 One of the biggest issues, of course, is not hardware or software, but regulatory. Any Tesla Robotaxi service that might launch next year wouldn't be available everywhere. "Not in all jurisdictions," Musk conceded, "because we won't have regulatory approval everywhere, but I'm confident that we'll have regulatory approval somewhere."
A complex transition
It's an ambitious plan, not to mention a complex one, and not just because of the slow-evolving regulations.
Down the line, for example, Musk concurs with other in the industry that manual controls like a steering wheel and pedals will be removed altogether. Before that, though, existing cars will have traditional controls. More confusing still, for a time users of the Robotaxis will be able to intervene with the driving.
"I think there'll be a transition period, where people will be able to take over from the Robotaxi," Musk said. "Once regulators are comfortable with us removing the steering wheel we'll delete that."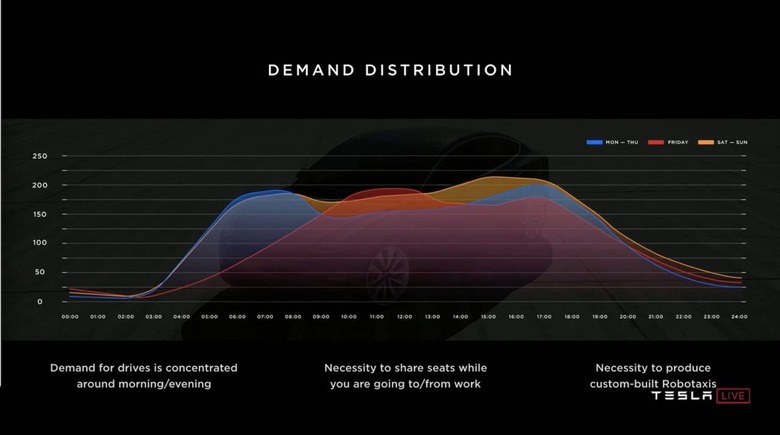 Where that leaves the liability of the Tesla Robotaxi fleet, should a car be involved in an accident, is an effective minefield. Currently, Autopilot is – for all its capabilities – still a driver-assistance system. The person behind the wheel is still required to be ready to take over from the system, should that be required, and if there's a crash or other incident it's that person who is liable.
At the other extreme, though, there's the possibility of a fully-autonomous, Level 4 or Level 5 system. By that point, the expectation is that the vehicle itself will be capable of operating with no involvement from the driver. Musk says that his perspective of fully self-driving is Level 5, but we'd counter that if humans are capable of overriding the Tesla Network cars it undoubtedly muddies the liability question.
"We just threw some numbers on there"
As Musk sees it, the business case for the Tesla Network is clear. "Robotaxis will be in extremely high demand for a very long time," the CEO predicted. It'll also squeeze much more return from the EVs. "The fundamental utility of the vehicle increases by a factor of five," Musk suggested.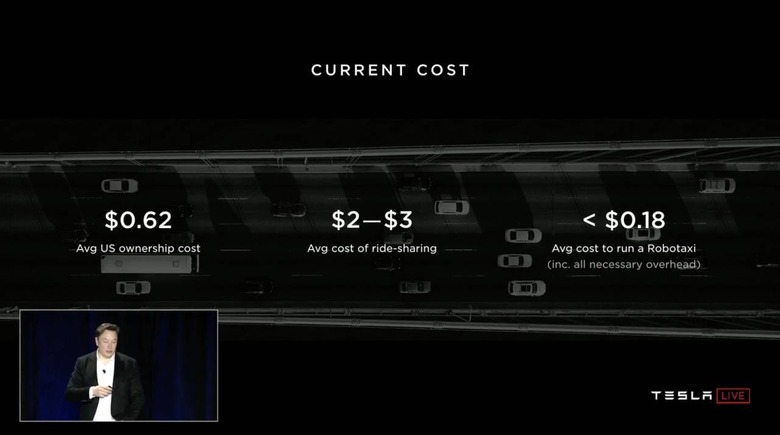 With current figures, he went on, it might cost under $0.18 per mile to run a Robotaxi. That's compared to an average ownership cost of $0.62, while Musk says that Uber and Lyft quote $1-2 per mile for a traditional ride-sharing service. Potential gross profit per year from a Tesla Network Robotaxi, Musk said, could be in the region of $30,000.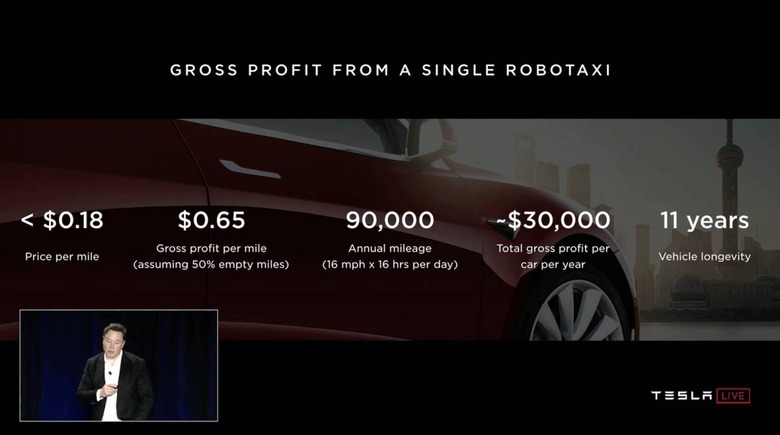 Still, it's probably best to take all of these predictions with a sizable pinch of salt – something even Musk himself conceded. "We just threw some numbers on there," he admitted when pressed for the basis of the calculations. "We randomly said, maybe a dollar."
A Robotaxi ride with no clear route
"The fleet wakes up with an over-the-air update," Musk said, with excitement. "That's all it takes." In reality, though, the Tesla Network faces a huge challenge, and the path there remains uncertain.
The regulatory situation isn't so much a question of Tesla's cars "passing" federal approvals, because such a process doesn't really exist as yet. Musk's suggestions that the Tesla Network could end up with 10m cars in the fleet overall is a huge prediction, as is the idea that a fully-autonomous Model 3 could be around $25,000 without a steering wheel and other traditional controls.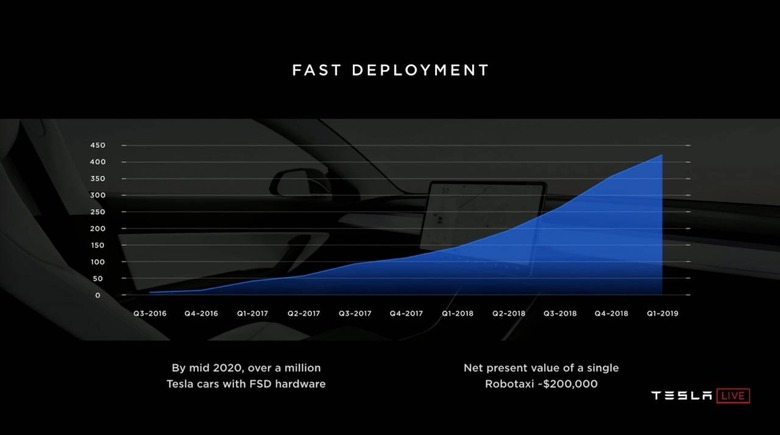 Are these problems insurmountable? No, though at an event where investors were hoping to be satisfied after vocal, and repeated claims about Tesla's autonomous future, it's not hard to imagine that some might have wanted to hear more definitives by the end of the day. At time of publication, Tesla stock is down by almost 4-percent.
Perhaps the most notable question – and answer – came at the very end of the Q&A session. If an owner adds their car to the Tesla Network, and it's involved in an accident or injures someone, Musk was asked, who is going to be held liable for that?
Musk paused to think, as though it was the first time he'd considered a situation that could have profound legal implications. "Probably Tesla," he answered, finally, before suggesting that "the right thing to do is to make sure there are very few accidents."