Tesla has begun pushing out Software Version 9.0 to its cars, billing the update as its "most substantial" so far, and adding features like Dash Cam, remote navigation programming, and a new UI while paving the way for Navigate on Autopilot. The update has begun rolling out to Model 3, Model S, and Model X cars in North America, though will be distributed progressively.
It's worth waiting for, however. Some of the most-requested features arrive in Version 9.0, like Dash Cam. Any Model S, Model X, or Model 3 built with Hardware 2.5 (as of August 2017) can now use the forward-facing camera as a dash cam. That saves up to 10 minutes of footage to a USB stick plugged into one of the front row USB ports.
The Tesla interface itself is changing, too. There's a new application launcher – bringing together apps like calendar, the web browser, and phone – into a single UI, and you can swipe up on the app launcher to return to the last app, or down to dismiss what's currently on-screen. Three new apps have been added to Model 3 specifically: a web browser, calendar integration with a smartphone, and an energy consumption monitor with both real-time and projected energy use.
4/Mobile app: start software updates, send a destination to navigation and control media in your Tesla through the mobile app pic.twitter.com/G9ubA327xw

— Tesla (@Tesla) October 5, 2018
The mobile app has been reworked, and can now be used to remotely trigger the car's software update. There's also the ability to share a new destination from a navigation app – like Google Maps or Apple Maps – on your phone to the vehicle. Turn-by-turn directions on Model S and Model X get more information about upcoming maneuvers, while on the Model 3 the directions are now on the left side of the central touchscreen and have been simplified.
If your car is or isn't eligible for high-occupancy vehicle (HOV) lanes, that can be set now, too, and will play into your navigation routing. Media controls can also be accessed by passengers in the car through their phones, though the driver can turn that off.
Other UI changes include new ways to access the cold weather climate features on Model S and Model X. That brings all of the options together into one view, among other things. In Model 3, swiping the temperature control setting left or right adjusts it up or down, while the innovative remote-control vents now get a 3D visualization to make it easier to see where you're directing the air.
Cars with the Full Self-Driving hardware package can now use all eight of the external cameras for a 360-degree, bird's eye view. That should make parking easier. Blind spot monitoring has been upgraded to use the side and rear cameras as well as the ultrasonic sensors, and can show vehicles in neighboring lanes.
Tesla's software also supports identifying different types of neighboring vehicle, from bikes and motorcycles, through to light duty and heavy duty trucks. Multiple lanes either side of the car can be displayed, and increases the range at which you can see the other vehicles. A new obstacle-aware acceleration setting can reduce the speed at which the car will accelerate when an obstacle is spotted in its path, such as when you're parking, though you can also turn that off.
Finally for now, there are new Easter Eggs. When the car is in park, there are classic Atari arcade games to be discovered. They're playable with the touchscreen and steering wheel controls.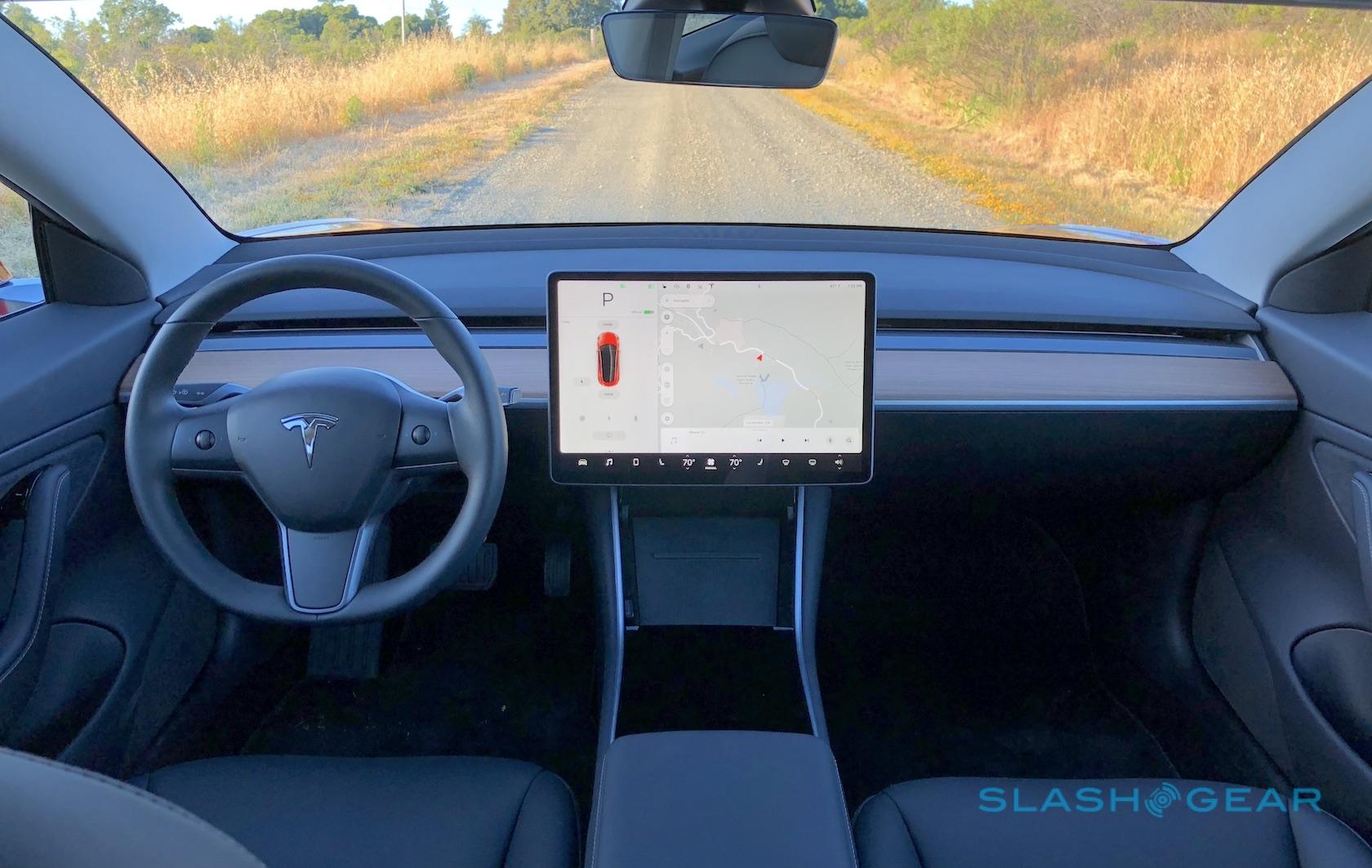 Down the line, though, there's more to come. Software Version 9.0 paves the way for Navigate on Autopilot, which will be enabled "in the coming months," Tesla says. "Navigate on Autopilot is an active guidance feature that, with driver supervision, guides a car from a highway's on-ramp to off-ramp, including suggesting lane changes, navigating highway interchanges and taking exits," the automaker explains. "It's designed to make finding and following the most efficient path to your destination even easier on the highway when Autopilot is in use."
It requires a destination be programmed, but when once activated the car will automatically suggest things like lane-changes and highway exits based on the route and road conditions. Drivers will still have to confirm those lane changes and such by tapping the turn signal. Autosteer and the other existing Enhanced Autopilot features will also be available, even if you're not using Navigate on Autopilot.
According to Tesla, Software 9.0 will bring Navigate on Autopilot in so-called Shadow Mode. It won't be available for active use, but the software will be logging how it would behave in the background. When Tesla has "millions of miles of real-world driving" to validate the feature, it'll be enabled as a beta feature. That'll be in the US initially, with other markets in line as validation and local regulations permit. Initially, Tesla had hoped to make it fully live – in the US at least – with v9.0's release, but Elon Musk confirmed today that it had been postponed.
Tesla will be rolling out Software Version 9.0 over the next week. If you want to make sure you get it as soon as possible, the advice is to ensure your car is connected to WiFi.