Tesla Supercharger network now stretches from coast to coast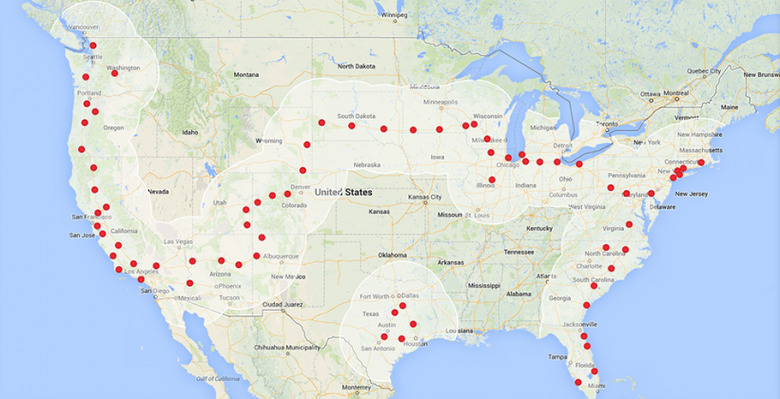 Tesla's Supercharger network has been a grand endeavor rolling out steadily in both the US and select locations abroad, slowly expanding the number of locations to which Model S owners can drive without charging concerns. In a tweet today, Elon Musk announced the Supercharger network now stretches from coast to cost in the United States, enabling owners to drive from LA to New York without spending a penny.
The Supercharger network in the United States is designated by the red dots in the image above, and as you can see, the network not only stretches from one coast to the other, but also up both the west and east coasts. There's also a smattering of Supercharger stations in Texas, though a southern-destination road trip in the Model S isn't quite possible yet.
Musk announced in another tweet that he and his family will be doing a cross-country trip over spring break using the Supercharger network, though they won't be the first to have done so — that honor recently went to John and Jill, who drove from one coast to the other only using the free Supercharging networks.
The rapid pace at which Tesla Motors has been able to roll out the Supercharging network is both surprising and exciting, and still in the works is a promised completed route that will allow Model S and future Tesla owners to drive all the way up to Vancouver, British Columbia. Hit up the timeline below to check out more recent Supercharger news.
SOURCE: Elon Musk (Twitter)