Tesla sets bold 55k EV goal for 2015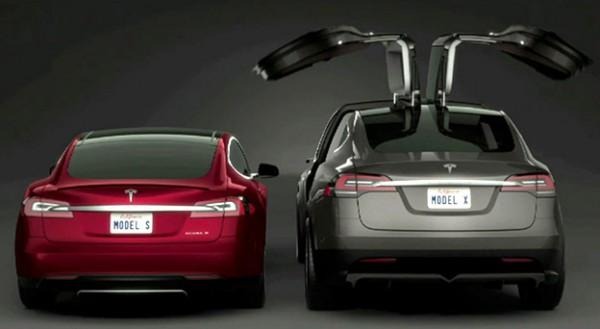 Tesla bested its own production records in Q4 2014 but then stumbled at actually delivering cars, including the new "insane mode" toting Model S P85D, dipping in profit and revenue but still promising big things for 2015. 11,627 cars came off the end of the Model S production line, Tesla said today, but a variety of problems – ranging from customers being on vacation, through bad weather, and even issues "with actual ships" – meant almost 1,800 of them failed to reach their buyers. While Tesla reached its 35k production goal for 2014, Elon Musk & Co. have set even more ambitious targets for the coming months, aiming for 55,000 cars in 2015.
That will of course not only include the Model S, but the new Model X. Tesla currently has more than thirty beta versions of the electric SUV out in the wild undergoing testing – one of which was caught on camera in recent weeks – and initial crash-tests have already taken place.
"In March, we will start building and testing a small fleet of Release Candidate Model X vehicles that will be very close to the final production-intent design," Tesla said today.
Around 40-percent of the new deliveries in 2015 will take place in the first half of the year, Tesla predicts, and a fair chunk are likely to be P85D AWD-variant Model S sedans. Around 1,400 of those were delivered this current quarter, in fact, having slipped from Q4.
Beyond that, though, the Model X will begin production in Q3, as Tesla ramps up its new facilities. In addition to greater production of the AWD system – shared by the P85D and the Model X – there'll be a new robotic body assembly shop for the SUV, a new paint shop, and a new casting and machining system for aluminum parts.
If all goes to plan, Tesla predicts 2,000 vehicles rolling off the production line a week by the end of the year.
As for the raw numbers, non-GAAP revenue hit $1.1bn for the three month period, and GAAP revenue hit $957m; that includes $42m in powertrain sales to other companies, the majority of which came from the pocketbook of former Tesla investor Daimler. Tesla also took $86m in regulatory credit revenue, all but $20m of which consisted of ZEV credit sales.
SOURCE Tesla Shareholder Letter [pdf link]