The Tesla Semi already has some big-name reservations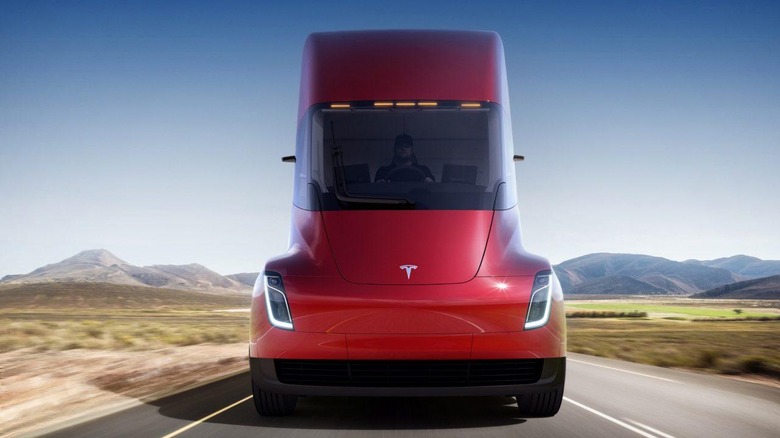 The new Tesla Semi has already found some high-profile buyers, with Walmart and more confirming they've placed reservations for the all-electric truck. Unveiled last night, the Tesla Semi does away with traditional diesel engines altogether and, like the California automaker's cars, replaces them with high-powered electric motors. The big pitch is zero-emissions shipping and less maintenance.
Indeed, Tesla CEO's Elon Musk swung between the sort of performance numbers that have traditionally enthused the automaker's consumer buyers, and figures more palatable for fleet operators. On the one hand, the Tesla Semi is shaping up to be the hot-rod of trucks, with a 0-60 mph time of 20 seconds even when at maximum 80,000 pound load. Cab-alone, it can do the same run in a quarter of that time.
However for companies actually in the business of making deliveries, it's other talents that might single the Tesla Semi out. The company is promising that the truck won't break down for a million miles, pointing to the fact that even if two of the four electric motors were to stop working unexpectedly, the remaining motors could still keep the Semi running. Brake pad wear is also expected to be minimal, thanks to regenerative braking.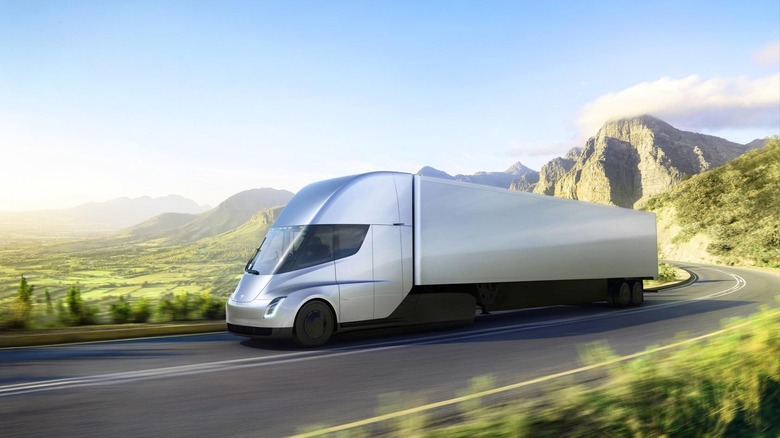 Those factors, among others, have caught the attention of a few big names in haulage. Walmart has confirmed that it reserved fifteen Tesla Semi trucks, telling CNBC that it had earmarked ten for the US and the remaining five for Canada. The pilot program will see the electric truck join Walmart's existing fleet of around 6,000 vehicles.
Meanwhile, J.B. Hunt Transportation Services also announced today that it would be experimenting with the Tesla Semi. The company, one of the largest supply chain solutions providers in North America, said that it had "placed a reservation to purchase multiple Tesla Semi tractors" though did not specify exact numbers.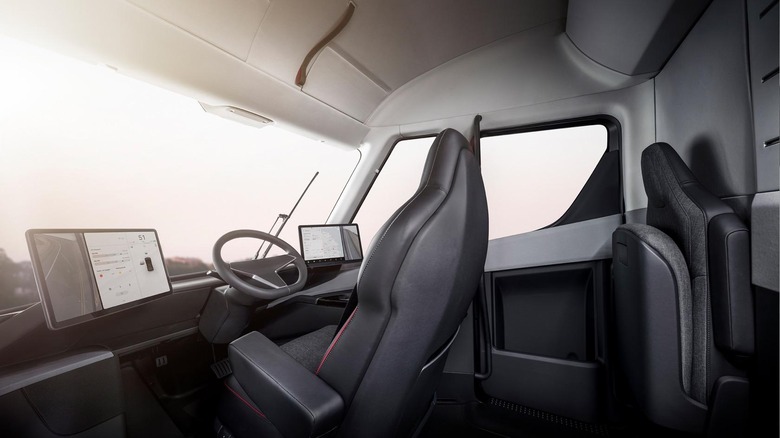 While Musk suggested that the Tesla Semi could effectively replace all diesel trucks, the haulage companies themselves are being a little more tentative in their expectations. "We believe electric trucks will be most beneficial on local and dray routes," John Roberts, president and chief executive officer at J.B. Hunt, explained of his company's reservations, "and we look forward to utilizing this new, sustainable technology." At the same time, it will be taking other steps to boost efficiency, like switching to biodiesel where possible, and reducing the amount of time engines are left to idle.
What could be particularly appealing to fleet operators is the Tesla Semi's tight integration with management services and applications. Inside the truck's cabin – tall enough for a driver to stand upright – there are two large touchscreen interfaces. Fitted as standard, they allow the Semi to integrate with existing software used to organize routes and more. Tesla envisages that same connected technology to allow multiple trucks to form pontoons or "road trains" that, so Musk suggested, could make them more cost-effective than even rail transportation.
The Tesla Semi is expected to begin deliveries in 2019, and reservations are being taken now.