Tesla Q2 2013: 5,150 Model S sold, income up 70% and expansion ahead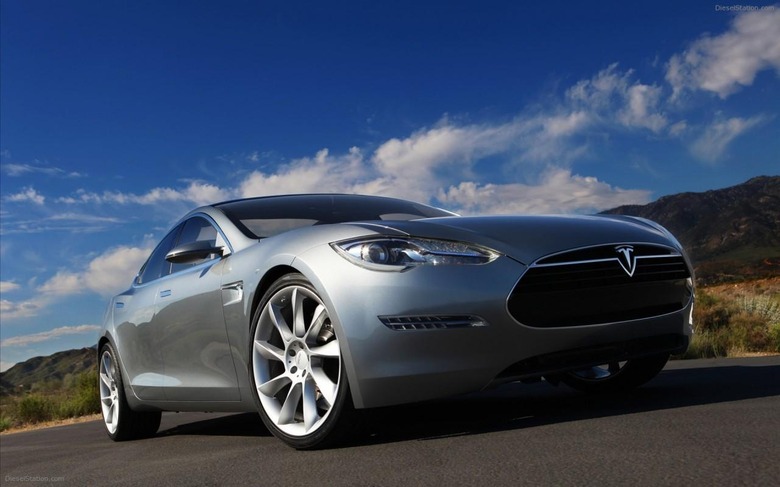 Tesla sold 5,150 Model S cars in Q2 2013, pushing net income up 70-percent versus the previous quarter as production rates rose and, this week, European sales begin. The disruptive electric car company – which had warned investors of a potential shortfall in profit for Q2, after a strong opening quarter – has seen production climb by 25-percent to nearly 500 vehicles leaving the line a week, while margins have also extended.
Tesla now makes a gross margin of 22-percent on each car, in fact, versus 17-percent in Q1 2013. That's helped by a steady increase in demand, the firm says, and current orders in Norway, Switzerland, and the Netherlands have Tesla estimating annualized sales for the Model S to exceed 40,000 units per year by late 2014.
As for the highly-publicized financing package announced at the start of Q2, Tesla says that over 30-percent of those vehicles delivered from April to June were bought under the scheme. Meanwhile, the firm controversially changed its standard features and options on the Model S, in a move which Tesla says offers more flexibility in specifying a car, but has prompted frustration by some would-be owners who have seen the price of their desired specification rise by as much as 9-percent as a result.
However, it's not all great news. Tesla had warned that it would take a hit because of a change in ZEV credit revenue, the sale of "zero emission vehicle" credit to other manufacturers whose ranges aren't perhaps as eco-friendly as the Model S. The scheme shuffling led to overall revenues in Q2 being flat, despite deliveries being up 5-percent quarter-on-quarter, with Tesla seeing ZEV sales bringing in $51m rather than Q1's $68m.
Looking ahead, Tesla says it expects production to rise in Q3 though "a considerable number" will head to European roads rather than staying in the US. The company is still on track to deliver 21,000 cars this year, with slightly more than 5,000 pegged for Q3 output, while gross margin is tipped to be in the low 20-percent range thanks to a more profitable car offsetting ongoing ZEV credit falls.
"R&D expenses are expected to increase significantly in Q3" Tesla predicts, "as we accelerate product development efforts on Model X, Model S right hand drive, and localization of Model S for international markets." That will also see a factory expansion, with Tesla expecting to spend around $150m on increasing production and other capital expenditures.