Tesla Model Y revealed: All the ranges, prices and speeds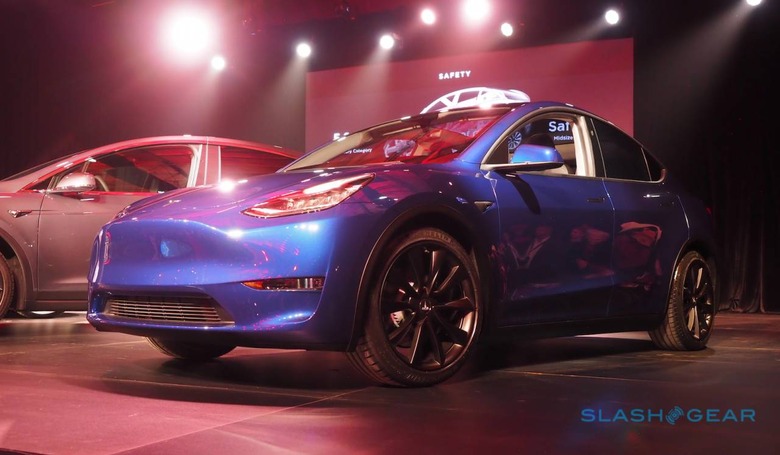 Say hello to the Tesla Model Y, the most important car Elon Musk and his EV company have created so far. Taking the current Tesla line-up to four when it launches in 2020, it's the automaker's first entry into the fiercely competitive compact SUV segment.
The Tesla DNA is clear from the outset. Tesla based the Model Y on the same architecture as the Model 3, and that includes the design language. It's roughly ten percent larger than the premium compact sedan.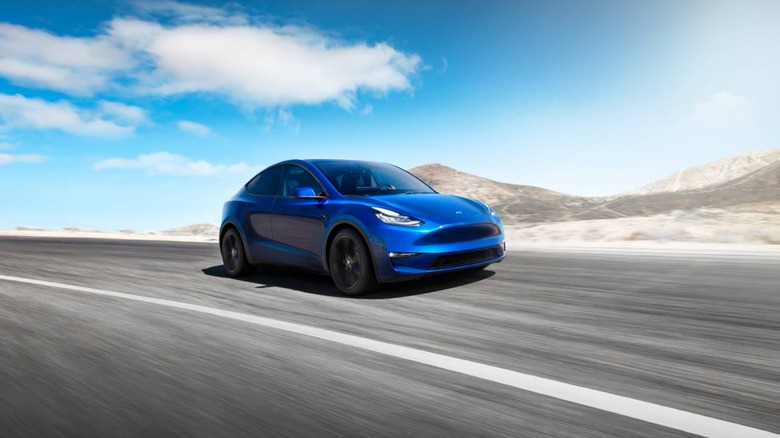 In fact, it looks a little like someone took a Model 3, loaded it into Photoshop, and then unchecked the "constrain proportions" option before stretching the car upwards. Taller then, it has a roofline familiar from the Model X, though there are some significant differences between that three row SUV and this new crossover.
Most conspicuous is the absence of Falcon Wing doors. Tesla initially planned the Model Y to have them, but had a change of heart and opted for more traditional – and, in terms of engineering and cost, much more straightforward – doors like the Model S. The overall aesthetic is bulked-up-3 rather than the more rugged look that many crossovers in the segment go for.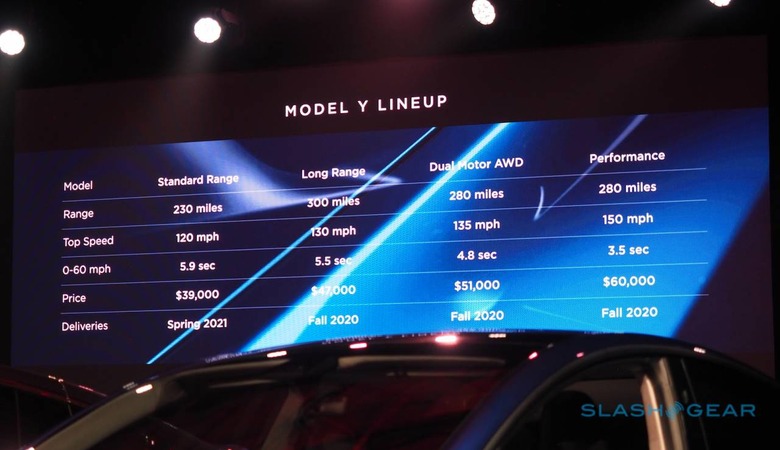 It's the electrification that's the key, of course. Right now pure EV crossovers are in relatively short supply, though that's likely to change by the time the Model Y reaches buyers. As with the Model 3 there are both rear-wheel drive and all-wheel drive options.
Range clocks in at 300 miles from the Long Range model, which Musk describes as "true, usable range." 0-60 mph takes 3.5 seconds. "It has the functionality of an SUV, but it rides like a sports car," Musk promises.
Inside, there's a panoramic glass roof, and – in a huge surprise – seven seats, albeit as an option. The standard car will have seating for five. There's 66 cubic feet of space, too.
As you'd expect, all of Tesla's driver-assistance bells and whistles are onboard. That means Autopilot and Autopark, along with Navigate for Highways and the usual safety features like blind spot monitoring. They're controlled via a sizable touchscreen in a suitably minimalistic cabin.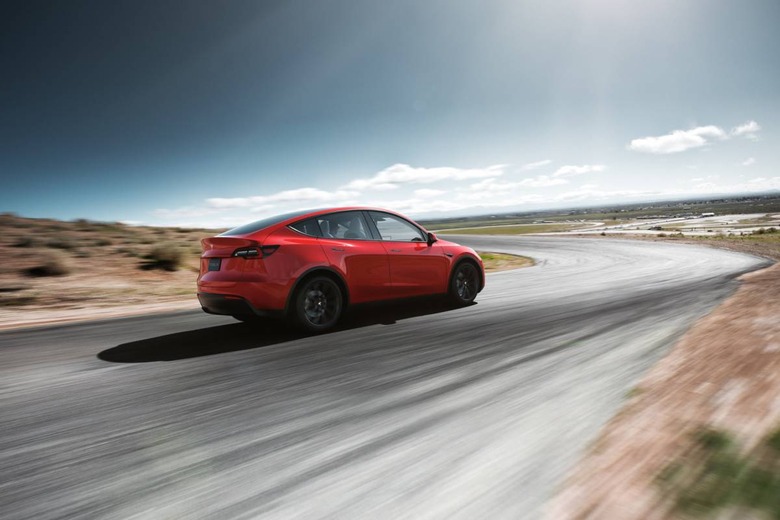 Why is the Model Y arguably Tesla's most important car to-date? Certainly the Model 3, with its $35,000 starting price – admittedly only just achieved – is the most affordable Tesla. However it doesn't play in the same category as the Model Y.
Crossovers and SUVs are the hot markets right now, and have been for some years. Whether it's for cabin space, design preference, the prevalence of AWD, or just the psychological factor of a more rugged "off-road" vehicle, they're the vehicles that consumers have been shifting toward, over sedans and minivans.
That means competition is fierce, but so are the opportunities. If Tesla can get the Model Y right: meet demand, deliver on reliability and quality, and avoid the controversies that have plagued the Model 3 – and indeed the S and X before that – then there's a vast audience of potential customers out there waiting. It can't afford to get it wrong, though: the traditional automakers may have taken a while to get up to speed with electrification, but we're going to see an influx of EVs from all the big names over the next few years, all with the aim of biting off the audience Tesla has been cultivating for the past few years now.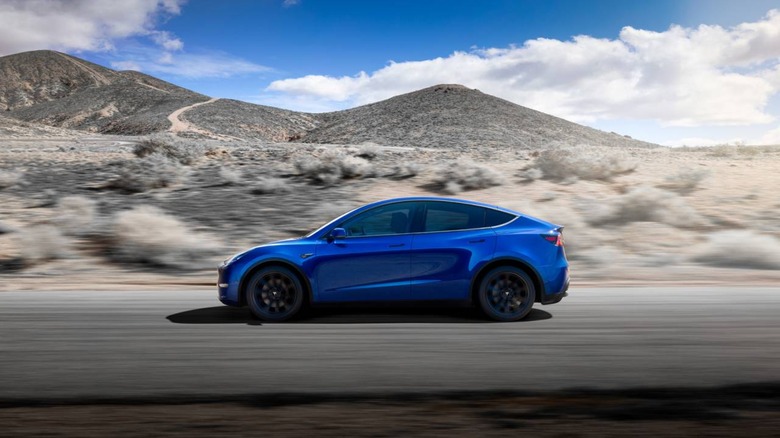 The question many have been waiting to have answered is pricing. Musk had promised a car roughly 10-percent more expensive than the compatible Model 3, and that's pretty much what Tesla has delivered. The Model Y will start at $39,000, though that's the Standard Range Model with 230 miles range which will launch in Spring 2021.
It'll do 0-60 mph in 5.9 seconds and have a 120 mph top speed. The Model Y Long Range will be $47,000 before incentives and launch in Fall 2020; it'll do 300 miles and 5.5 seconds 0-60, with a 130 mph top speed.
The Model Y Dual Motor AWD will have 280 miles of range and a 135 mile top speed. It'll do 0-60 mph in 4.8 seconds. It too will arrive in Fall 2020, priced from $51,000.
Finally, the Model Y Performance will do 280 miles and have a 150 mph top speed. It'll do 0-06 mph in 3.5 seconds and have a $60,000 price tag when it arrives in Fall 2020.
Going for a seven-seat interior adds $3,000 to your bill. Autopilot places an additional $3,000. But since the $5,000 Full self-driving option requires Autopilot to also be present, you are, in effect, tacking on $8,000 more to the price. For the Dual Motor AWD, that brings the total to $62,000.