Tesla Model X is safest SUV says NHTSA: Watch it get smashed up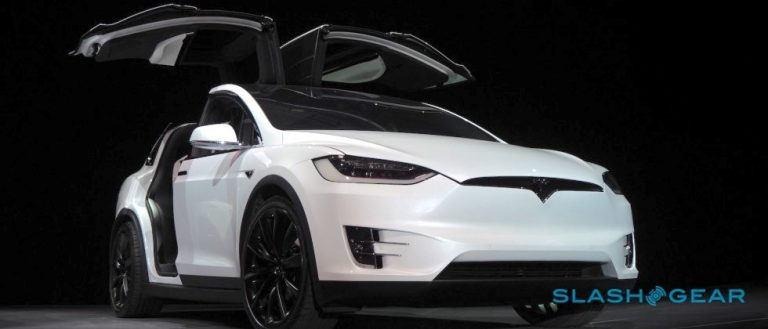 The Tesla Model X has become the first SUV to ever score a full 5-stars in NHTSA crash testing, with the all-electric car credited as being the safest SUV around. The National Highway Traffic Safety Administration examines crash performance in categories like frontal impacts, side impacts, and pole impacts. For SUVs, though, the most arduous challenge is often the risk of overturning in an incident, which the NHTSA calls the rollover probability.
It's there that the Model X's architecture really helps matters. Since Tesla mounts the battery packs for the SUV down low, under the floor of the passenger compartment, the car's center of gravity is especially low. That helped it achieve the lowest rollover probability score of any SUV that the safety organization has ever tested.
Still, that's not been the car's only high point. Indeed it managed a full 5-star success in every category and sub-category that the NHTSA rates on. According to the agency, those in the Model X in a crash condition have the "lowest probability of injury" of any SUV tested.
"That means that in the event of a serious crash," Tesla said today of the results, "Model X occupants have an overall 93% probability of walking away without a serious injury."
It's worth noting that NHTSA testing isn't the only safety evaluation drivers have come to rely upon in the US. The Insurance Institute for Highway Safety (IIHS) also performs its own tests on cars, including the notorious "small overlap front crash test". That examines how a vehicle holds up when striking a narrow, hard object, such as a street lamp or other pole.
The Model X is yet to be assessed for that, and the IIHS doesn't make public its future testing schedule. However the Model S sedan was given a surprise criticism earlier this year when it scored "acceptable" rather than "good" in the test. At the time, Tesla said that it had tweaked the design of the car in order to address the criticisms.
The company does have a decent track record at that. Back in 2014, in the aftermath of underbody fires experienced by a small handful of Model S sedans during which the battery was inadvertently pierced, Tesla opted to introduce a completely new triple-layer underbody protection. The shield was offered to all existing owners as a free upgrade.