Tesla Model X Crossover to be detailed 29 September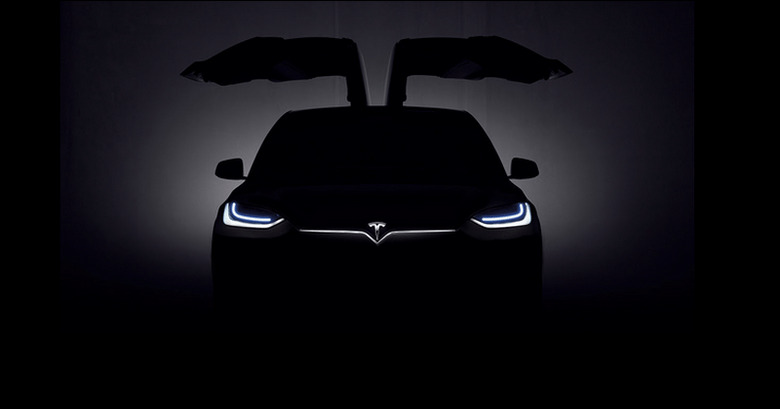 September 29 seems like a big day. And no, it's not just because Google will be possibly unveiling two new Nexus smartphones and Chromecast products alongside formally launching Android 6.0 Marshmallow. No, that will also be a big day for those in the automobile industry as Tesla has seemingly planned to make a big splash on that day as well. Invitations have started going out that is unambiguously related to the Model X and it will be likely that the car maker will be spilling all the retail beans on the crossover there.
The invitation is quite nondescript, only holding the silhouette of the Model X with its falcon doors opened high, forming the rough shape of at least half an X. The body is partially illuminated by the car's LED daylight running lights. The event takes place in Tesla's factory at Fremont, California, at around 7 p.m. The simplicity of the invite almost belies the car's not so simple price point.
September 29 is actually already the announced date when the Signature edition of the Model X will supposedly start shipping. This is the special version of the electric SUV specially customized by early deposit-holders. In particular, this Signature Edition includes the Ludicrous Speed feature that Tesla has been bragging about. All for a pricer tag that goes over and beyond $130,000.
While the consumer version of the Model X won't reach that high, at $5,000 it is still more expensive than Tesla's current poster boy, the Model S sedan. That said, much of the details of that price, like options and availability dates, have not yet been fully disclosed. Tesla might use this occasion to reveal all that.
As its first electric SUV, the Model X is definitely a point of interest for many in the industry, but it is perhaps only passing interest. Consumers might be anticipating the arrival of the third Tesla EV, the Model 3, which is believed to have a much more affordable price than either of its predecessors. That, however, might be a long wait, as this third generation isn't expected to arrive until sometime in 2017.
VIA: CNET