Tesla Model X all-electric crossover unveiled and detailed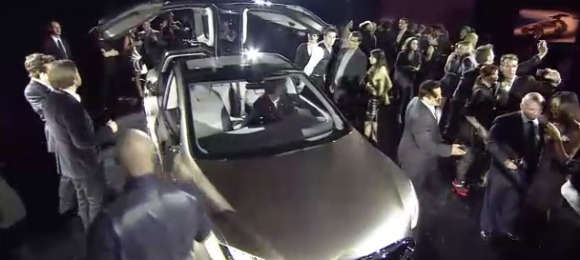 On the eve of February 9th, 2012, it was in Hawthorne California that the public first saw the Tesla Motors Model X electric crossover vehicle. This lovely vehicle has the look of other premium crossovers such as the Acura ZDX or the BMW 5 Series Gran Turismo and is made to fit in with that niche on the outside whilst having massive amounts of space inside for a full family of riders. This vehicle is fully electric and therefor has a different set of needs as far as space for its motor components go – here showing clearly the benefits of not needing the much larger internal combustion engine.
This vehicle is a prototype of the third vehicle Tesla has unveiled, this just weeks after its stock prices fell sharply at the announcement of the departure of two high-ranking engineers. As it stands, this vehicle looks to be the model with the most hype in the company's short history, complete with signature "Falcon Wing" doors at the back that will garner it no small amount of attention due to their unique ability to open with little space. Compared to previous models with the more commonly termed "Gull Wing" doors, these doors leave much more room as they open. Compare the doors to the famous DeLorean of Back to the Future fame (which had massive Gull Wing doors) and you'll find you wont need to park with more than a couple feet on either side to get in while the original time machine's space requirements were simply unrealistically giant.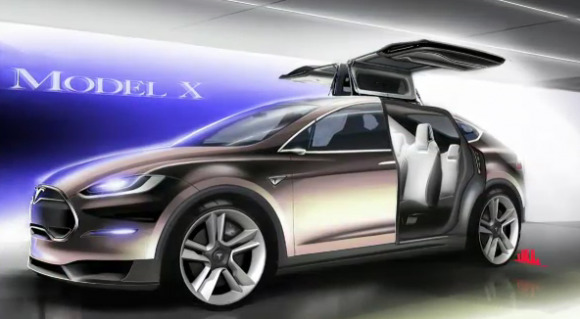 The Model X has two trunks to hold as much cargo as you can manage – one in the back, one in the front. Because there's no need for a giant engine, you can feel free to pack up all your travel necessities, or the groceries, right up in front of you. This luggage space makes the vehicle's claim to carry seven passengers comfortably seem actually realistic. Chief executive of Tesla Motora Elon Musk spoke with the New York Times of the vehicles first iconic features:
"Because it is an electric car, and we don't have to package a traditional internal combustion engine powertrain, we have available to us much more packaging opportunities. Some S.U.V.'s and minivans claim to have room for seven passengers, ut if you fill them with people, there is no room for their luggage. The Model X offers ample room for seven adults, and their luggage. [As for the Falcon Wing doors,] you can get in and out in the tightest garage or parking spot without hitting the wall or car next to you, or your head." – Musk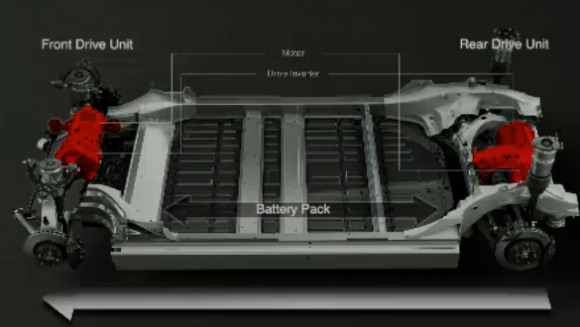 The Model X has an innovative all-wheel-drive system that has electric motors spinning the front and back wheels independent of one another. It also has its entire battery setup concealed underneath the platform of the vehicle to conserve space once again. These battery packs will provide about 10 percent less range than the previous Model S vehicle from Tesla, this mostly due to the 10 percent greater total weight of the vehicle. The same three pack sizes that were offered with the Model S will also be offered with the Model X, those being 40, 60, and 85 kilowatt-hours.
"Even though the X is heavier, it will still go zero to 60 miles an hour in about 4.4 seconds. And that's not even the Performance model. This is will be our most important, and highest-volume car, when it comes out." – Musk
The Model X will start at $49,900 after a $7,500 federal tax credit, with added optional features pricing the vehicle up to a possible $90,000 total. Musk added this week that a fourth model will be announced in 18 to 24 months, likely with a much lower price point so that it might reach a wider audience.
Check out the live unveiling of the vehicle below for a limited time!