Tesla Model S Sedan official: $49,900 from 2011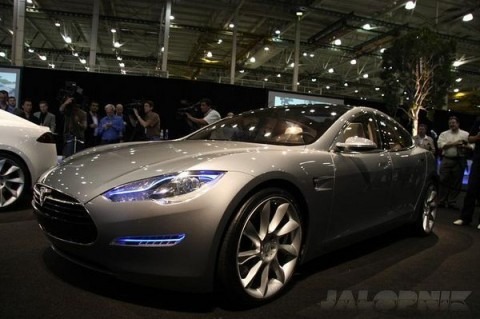 Until now the most we've seen of the Tesla Model S Sedan has been a coquettish wheel-arch and a glimpse of rump.  Now the electric car company has officially unveiled their 300-mile range seven-seater, and promised production kicking off in Q3 2011.
Tesla expect to be producing 20,000 of the Model S Sedan per year by mid-2012, with each selling for $49,900.  The company's quick-charge capabilities will see the floor-pan located batteries partially re-juiced in just 45 minutes, and there's talk of a long-range rental battery; the standard batteries themselves are rented for 7 to 10 years.
Inside there are two LCD screens, a main one in the driver's binnacle and a larger 17-inch touchscreen in the center console.  The sixth and seventh seats flip down into the trunk and are rear-facing, so like similar seats in other, more mainstream cars, expect them to be only really of use for children.
The standard model will hit 0-60mph in 5.5 seconds and has a single speed transmission.  Sport and AWD versions are planned, but no launch dates for those have been given.
[via Jalopnik]