Tesla Model S gets unveil date; Roadster sold out to November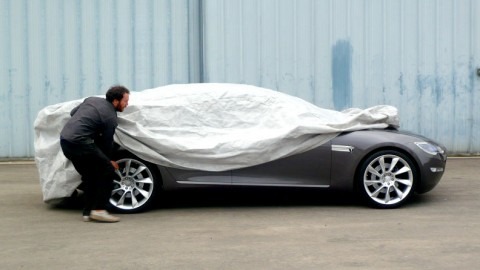 Tesla have announced the official unveil date of their Model S electric-powered car, the four-door version of the existing Tesla Roadster.  While details on the Model S are currently scarce, we do know that it will use the same high-capacity battery technology as found in its sportier sibling; the new, road-legal prototype will be launched on March 23rd at The Tesla Design Studio inside the SpaceX factory in Hawthorn, California.Update: Tesla have released a new photo:
Other known details include a rough guide to pricing, which Tesla have previously confirmed should be below $50,000.  Existing Tesla Roadster owners will have the opportunity to both jump the queue for the new model, as well as save $10,000 off the purchase price.
According to the marketing hyperbole, the motivation behind the Tesla Model S was "to create one of the most functional, intuitive and beautiful vehicles on the road"; however with only a rear hatch to go on, it's tough to say whether they've succeeded.  More solid news is that Tesla Roadster production is sold out until November, and the company now expects to be profitable by "mid year".  As for the Model S, that's not expected to commercially make it to the tarmac until 2011.
[via Register Hardware]