Tesla Model S priced up for UK launch as Elon Musk teases EV truck again

Tesla has announced UK pricing and availability for the Model S, opening its first showroom in the country, as CEO Elon Musk reawakens chatter of a future Tesla truck. The right hand drive version of the Model S will start at £49,900 for the 60 kWh model with roughly a 240 mile range, Tesla said today, while the Model S 85 kWh version, with a 310 mile range and 60HP more, will start from £57,300. They'll also be offered alongside the P85 performance version, though deliveries of all three aren't expected to begin in the UK for another 6-7 months.
The Performance Model S P85 will start out at £68,700, though that will increase power to 416 HP and cut the 0-60mph time to just 4.2 seconds. In contrast, the entry-level Model S takes 5.9 seconds and the 85 version takes 5.4 seconds.
Both the 85 and the P85 have Supercharging hardware included as standard, with Tesla saying it plans to build a network of its 120 kW charging stations throughout Europe, Scandinavia, and Central Europe. "Most of Western Europe" will be catered for by winter 2014, the company says, though at time of writing there are only six stations in Europe overall, none of which are in the UK.
Another, perhaps more practical option is Dual Chargers, effectively a second onboard charger that can be used with an IEC Type 2 public charging station for up to twice the regular rate of charge. According to Tesla, the £1,250 option can achieve up to 60 miles of range for each hour it's hooked up.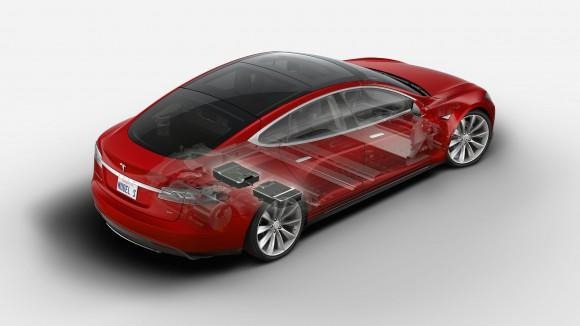 Incentives in the UK are obviously different to those in the US. The Model S gets a £5,000 grant from the government and avoids both road tax, company car tax, and London's congestion charge, among other things.
As for the possibility of a Tesla truck, Musk raised the potential vehicle again this week, Business Insider reports. The vehicle – which Musk first teased as on the tentative roadmap a year ago – would be akin to Ford's F-Series range, the Tesla founder said, given the continuing strong demand for models like the F-150.
However, any possible truck is still roughly five years out, Musk said, putting it behind the Model X crossover SUV and the much-rumored "low-cost" EV that will be built on the company's new 2014 platform. "We have this idea for an electric truck that could really be a big improvement in truck technology" Musk said a year ago of the project.