Tesla battery-swap demo this week confirms Elon Musk

Tesla will show off its battery-swap system in a live demonstration this week, founder Elon Musk has revealed, as the electric car company experiments with alternative ways to power its vehicles. The demo will be done live, Musk confirmed, at the company's Hawthorne design studio. Given the recent failure of Better Place, however, all eyes will be on Tesla to see if it can deliver on replaceable batteries in a cost-effective way.
"Live pack swap demo on Thurs night at 8pm California time at our design studio in Hawthorne. Seeing is believing" Elon Musk, CEO, Tesla
Tesla – and indeed Musk – is known for attention-grabbing announcements, though embracing swappable batteries would be a significant development for the upstart car firm. Until now, it has focused on high-speed recharging of the Model S' power-pack, building out a network of so-called SuperCharger stations across the US where drivers can add 200 miles of range with a 30 minute top-up.
That still demands a half-hour break in your journey, and though Tesla has recently said it plans 50-percent faster SuperCharger stations to debut this summer, it nonetheless takes longer than topping up a traditional tank with gas.
Throwing replaceable batteries into the mixture, however, would address that. Instead of pushing juice into the existing power-pack, the whole unit could be swapped out for a different one in short order. Tesla hasn't said what sort of system it will use, though there are obvious speed advantages compared to recharging; according to GigaOm, the original design of the Model S included provisions for the battery to swap-out.
Still, there are ominous lessons to be learned from high-profile failures like Better Place, which last month entered liquidation after burning through around $850m in investment. The Israeli company was building out a network of battery-swapping hubs for its electric-powered Renault Fluence Z.E. cars, where drivers could pull into a service station and have their drained power pack physically replaced with a full one in roughly the time it takes to refuel a gas vehicle.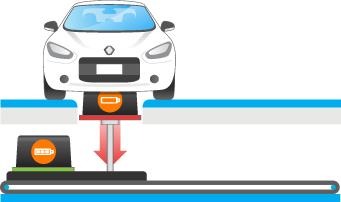 The concept won Better Place no shortage of attention and investment, but the practicalities of actually delivering a sufficiently broad network to assuage driver range anxiety proved a greater challenge than expected. Add in the relatively unappealing Renault itself – and the French car company's own reluctance to commit to Better Place's system, arguably undermining it by confirming it had no plans to develop future models using the swappable battery approach – and expensive monthly subscriptions and the firm's ambitions were dashed.
Even if Tesla approaches its exchange system in the same way, by combining it with the growing SuperCharger network it's possible it could bypass the roll-out headaches. SuperCharger facilities basically fit into existing car parking spaces, far easier to install and accommodate than the sort of complex battery-switching and recharging centers Better Place used. With drivers already getting the reassurance of a nearby SuperCharger, Tesla could then sweeten the deal with replacement battery stations, which would presumably be seen as an added-extra rather than a vital element of the infrastructure.
We'll know more on Thursday evening, when Musk & Co. will reveal exactly how Tesla intends to approach the system.