Tesla Autopilot Safety Bypass Gadget Blocked By The Feds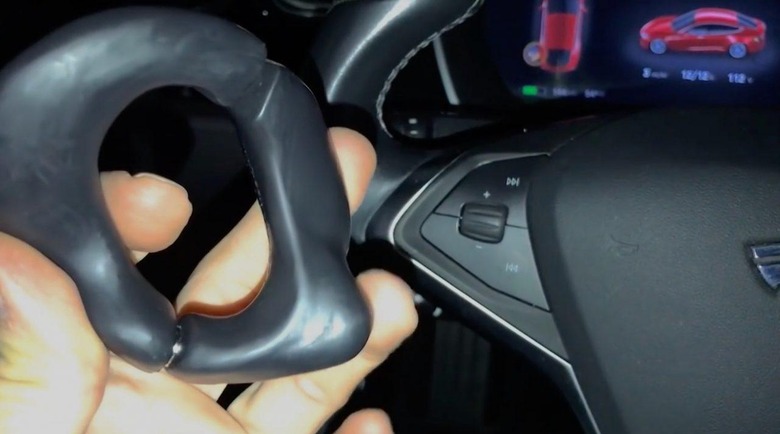 An aftermarket gadget promising to bypass Tesla's Autopilot safety features and allow owners of the EVs to keep their hands off the wheel is being barred from sale in the US by regulators. Autopilot Buddy offered a workaround to the steering wheel sensors that Tesla uses to ensure that drivers are still paying attention and ready to take over, should the adaptive cruise control and lane-keeping assistance need to disengage unexpectedly.
To do that, Tesla uses torque sensors integrated into the steering. These attempt to track the weight of the driver's hands as they pull on the wheel, to confirm whether they're actually in contact. If the driver lets go of the wheel for an extended period, Autopilot sounds a warning and, eventually, will disengage altogether.
Despite being essential for making sure what is a Level 2 driver-assistance system – nowhere near a fully autonomous vehicle – is correctly and safely operated, the attention monitoring system has proved unpopular with some Tesla owners. Various hacks and workarounds that leave the car under its own control, no matter the fact that it's not designed to operate in that way, have been observed. As a result, over time Tesla has modified the Autopilot warning system, reducing the amount of time a driver can release the wheel before an alert sounds.
It's that which Autopilot Buddy – made by a US company with no connection to Tesla – takes issue with. Although the company says it's designed "for Track Use Only" and "not marketed for 'street use'," it also highlights the fact that "Tesla's 'updates' have slowly diminished the duration we can enjoy 'Autopilot' in our cars."
The "fix" for that safety feature attaches magnetically to one side of the steering wheel, and promises to convince the Autopilot system that hands are in place. Versions are available for the Model S, Model X, and most recently the Model 3. Now, the National Highway Traffic Safety Administration (NHTSA) is weighing in.
Today, it announced that it's issuing a cease and desist order against Autopilot Buddy, demanding that it end sales in the US. "A product intended to circumvent motor vehicle safety and driver attentiveness is unacceptable," Heidi King, NHTSA Deputy Administrator, said today. "By preventing the safety system from warning the driver to return their hands to the wheel, this product disables an important safeguard, and could put customers and other road users at risk."
Currently, the Autopilot Buddy site says that it's not selling the attachment in the US, though international orders are still accepted. As part of the NHTSA's order, the company must certify that all US marketing, sales, and distribution has ended. Autopilot Buddy has until June 29 to respond.
While Tesla would undoubtedly decry the use of something like this adapter to bypass its safety features, it's likely to play further into criticisms from some quarters of how Autopilot handles driver assistance. A report back in May claimed executives at the company considered then dismissed an eye-tracking attention monitoring system, as used in Cadillac's Super Cruise. Insiders said it was for reasons of cost, though Tesla CEO Elon Musk later argued that eye-tracking was deemed ineffective.