Smarter Autopilot attention tracking reportedly vetoed by Tesla execs [Updated]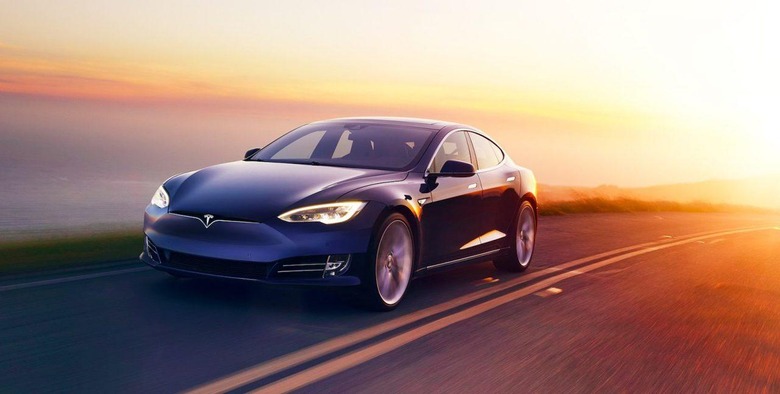 Tesla engineers considered adding a driver attentiveness system to Autopilot to ensure users weren't leaving their electric car to its own devices, but Elon Musk and other executives overruled the suggestion, according to a new report. The leak is likely to bring Autopilot safety back into the spotlight, amid long-standing suggestions that some Tesla owners over-estimate – intentionally or otherwise – just how capable the semiautonomous system actually is.
Autopilot, with its combination of adaptive cruise control and lane-keeping, is a Level 2 system according to the generally accepted categories. That means it's driver assistance, not driverless: the car and the driver share responsibility, and the person behind the wheel must be ready to take back control at any point.
Exactly how that readiness is measured varies by automaker, however. A number of systems have been implemented, though most common is contact with the steering wheel. That's typically tracked either by the driver periodically applying torque to the wheel – the sensors effectively feeling the pull of the driver's hands – or with contact sensors built into the rim's wheel.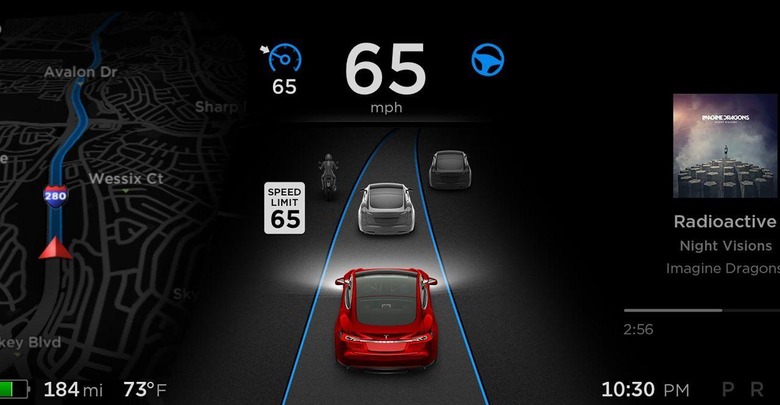 Tesla's Autopilot uses movement sensors, with an occasional nudge needed to reassure the system that the driver is still present. According to people familiar with Tesla's internal discussions, reported by the WSJ, however, some engineers had been pushing for a more comprehensive system. That could include contact sensors built into the wheel, to ensure hands were present more frequently, or an eye-tracking system.
The latter has been seen less frequently in production vehicles; indeed, only one car currently uses such technology. Cadillac's Super Cruise is currently only available on a single vehicle, the CT6 luxury sedan. It uses a combination of high-resolution mapping data and more precise GPS to allow the driver to take their hands completely off the wheel on certain sections of highway, something we reviewed last month.
A camera mounted atop the steering wheel column watches the driver's eyes, illuminated by infrared LEDs positioned at the top of the wheel itself. If the driver is not looking at the road ahead with reasonable consistency, they're given first visual and audible warnings, and eventually the car will bring itself to a complete stop and can even contact emergency services. However, Super Cruise is only available for use on those roads that Cadillac has had specifically mapped.
According to the sources, Tesla engineers suggested a similar approach for Autopilot, but the idea was shot down. Elon Musk and other executives reportedly balked at the price and its potential for frustrating users, in addition to questioning whether it would be production-ready in time for Autopilot's launch and if it could reliably track varying driver heights.
"It came down to cost, and Elon was confident we wouldn't need it," a source told the paper. In a statement, a Tesla spokesperson said that internal feedback was welcomed. "Everyone at Tesla is not only encouraged, but expected, to provide criticism and feedback to ensure that we're creating the best, safest cars on the road," the spokesperson said. "This is especially true on the Autopilot team, where we make decisions based on what will improve safety and provide the best customer experience, not for any other reason."
Tesla – and Elon Musk specifically – has insisted vocally over the past few years that Autopilot makes cars safer, going so far as to criticize media reports of crashes where the technology was activated. Musk has previously suggested it would be "morally reprehensible" to delay deployment of systems like Autopilot because of negative media coverage.
Still, Tesla's approach to semi-autonomous driving has been more aggressive than many in the industry. The automaker has a reputation for pushing out new features via over-the-air (OTA) updates, with fresh functionality simply appearing on owners' cars overnight. Some of those updates introduce new safety elements, such as restricting what roads Autopilot could be enabled on, or disabling the system if the driver ignores the audio and visual attention warnings.
Nonetheless OTA software can't add new hardware to the car. For the most recent Tesla Model 3, in fact, the automaker quietly added a cabin-facing camera to the EV, mounted up near the rear view mirror. Although Tesla confirmed back in August 2017 that it was, indeed, a new piece of hardware, it declined to explain exactly what it planned to do with the camera.
Update: Tesla CEO Elon Musk has responded to the WSJ report, and unsurprisingly he's not in agreement. According to Musk, the decision not to include eye-tracking was made because it was deemed "ineffective" rather than for reasons of cost.
This is false. Eyetracking rejected for being ineffective, not for cost. WSJ fails to mention that Tesla is safest car on road, which would make article ridiculous. Approx 4X better than avg.

— Elon Musk (@elonmusk) May 14, 2018