Tesco Mobile iPhone 3GS coming Dec 14th; pricing confirmed

Retailer Tesco have announced that, as of December 14th, they will be selling the iPhone 3GS and iPhone 3G in their stores.  Confirmed as coming to the UK MVNO's Tesco Mobile network back in November, as predicted the supermarket's pricing is competitive with the rest of the industry: Tesco will offer a £20 ($33) per month contract with unlimited internet and WiFi hotspot use and the equivalent of £60 ($98) to be spent on calls and messages each month.
The handsets themselves will be priced from free on a new 24-month contract, although subscribers to the £20 tariff will be expected to pay upfront for their iPhone 3G or 3GS.  Tesco Mobile will also offer a pay-as-you-go (prepay) contract, with an 8GB iPhone 3G at £342 ($556), a 16GB iPhone 3GS at £440 ($716) or a 32GB iPhone 3GS at £538 ($875), again with 12 months free data/WiFi access and triple the amount you top up each time.
Since Tesco also run a loyalty card scheme for in-store purchases, called Clubcard, they're offering double points on new iPhones and triple points for every £1 spent on top-ups or monthly contracts.  More pricing details in the table below.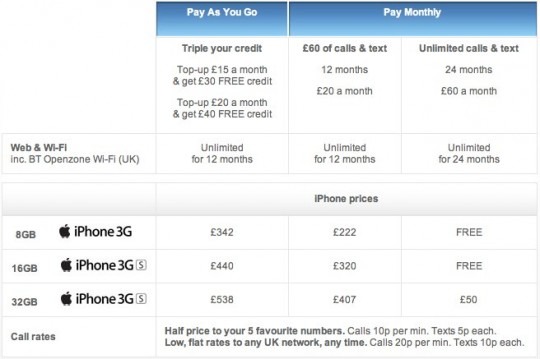 [via Twitter]