TerraTec NOXON iRadio 500 hands-on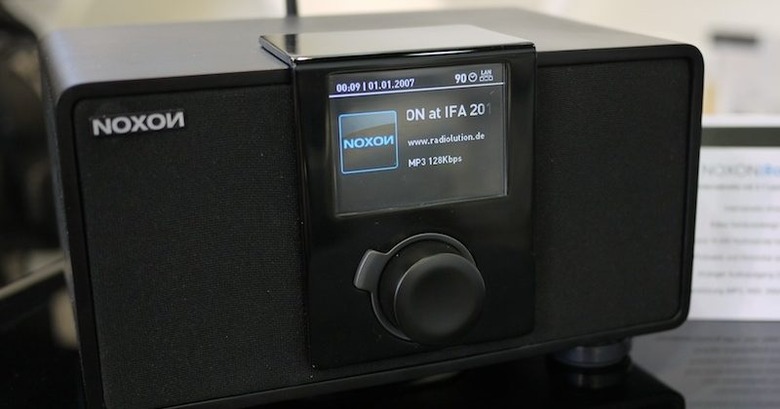 TerraTec have plowed away at the internet radio segment, and their new NOXON iRadio 500 is a slick example of the breed.  A €299 ($386) standalone model, with both WiFi and a wired network option, the iRadio 500 has a 2.1 speaker system, large 3.8-inch color display and straightforward controls.  As well as playing internet radio, it can also stream locally-stored music across your network from a computer or NAS.
While TerraTec supply a remote control, the easiest way to use the iRadio 500 is the large click-knob on the front; the bump to the upper left is the back button.  It's certainly easier than scrolling through a long list of internet radio stations manually, though of course there are touch-sensitive preset buttons on the top, too.  Sound quality – over the din of the IFA 2010 show floor – was good, with the compact 2.1 speakers managing to put out a decent amount of sound; of course, you're also at the mercy of whatever bitrate your station of choice is using.
As well as the iRadio 500, TerraTec has two new entry-level NOXON units – the iRadio 300 and 360 – with internet radio streaming and a mono or stereo speaker setup respectively, together with the NOXON iRadio 700 and NOXON A540.  The iRadio 700 adds an iPod docking station and PMP-compatible USB port to the iRadio 500, while the A540 is a standard 19-inch wide HiFi component designed for inclusion in your rack.
Press Release:
NOXON Debuts New NOXON Internet Radios at the IFA Show

NOXON has become the synonym for Internet radio, which continues to find its way into ever more living rooms. Aiming to train the public spotlight on Internet radio output devices, the Nettetal-based NOXON will debut a series of new NOXON tuners at this year's IFA show. And with good reason: Some 14,000 stations are already broadcasting across via the World Wide Web. There is bound to be something for everyone in an offering as extensive as this. Every NOXON receives Internet radio signals, streams podcasts (pre-recorded audio programs posted on websites), and plays music archived on hard disk via a networked link. A broadband connection is all it takes to get in on the action because every NOXON device readily connects with the Internet via a wireless or Ethernet link. The company put a premium on design when it developed this new range, even improving on the NOXON line's already very user-friendly handling and menu navigation. The devices to be unveiled at the IFA show also feature enhanced audio. Users seeking to explore the all but infinite possibilities of Internet radio are sure to find the right device in NOXON's new line. You will see the NOXON products at the TERRATEC booth in hall 12, stand 101.

NOXON iRadio 300 / NOXON iRadio 360

NOXON iRadio 300 and NOXON iRadio 360 are the successors to the popular NOXON iRadio and NOXON 90elf radios. Both new models feature high resolution displays and a two-way sound system, whereby NOXON iRadio 360 comes with stereo sound. Like their predecessors, both devices offer five favorites buttons and one each loudspeaker and headphones output. Slated to ship in November, NOXON iRadio 300 will be priced at 169 euros, and NOXON 360 at around 200 euros.

NOXON iRadio 500

NOXON iRadio 500 receives Internet radio signals, streams podcasts and plays music archived on hard disk via a networked link. Designed to handle intuitively and featuring the trademark NOXON look and feel, this device delivers all these audio signals via a great-sounding 2.1 speaker system. The high-contrast color display is 3.4 inches (8.8 cm) tall. NOXON iRadio 500 will hit stores in November with a price tag that reads 299 euros.

NOXON iRadio 700

A step up from NOXON iRadio 500, NOXON iRadio 700 also comes with a very accommodating iPod docking station. This integrated universal dock is turns the device into a sweet-sounding jukebox that charges the inserted iPod or iPhone. Dialing in any of some 14,000 Internet radio stations worldwide could not be any easier. A list sorted according to various criteria (genres, countries) provides a very good overview of this very extensive offering of stations. A USB port lets users pipe in music from external hard disks and USB memory sticks. Active loudspeakers or even a full-fledged hi-fi system may be connected to the line out or digital output. A 2.1 system and a 3.4-inch color display (8.8 cm) are integrated. NOXON iRadio 700 will cost around 399 euros.

NOXON A540

Catering to the audiophile crowd, NOXON will launch the NOXON A 540 Internet receiver in November. Housed in a classy 19-inch (43-centimeter) chassis, the standard format for sound systems – this device's elegant look is sure to impress. Other key features include a monochrome display, favorites buttons, and a digital output. It will be priced at around 250 euros.