Ten One Design unveils Pogo Sketch Pro capacitive stylus that thinks it's a paintbrush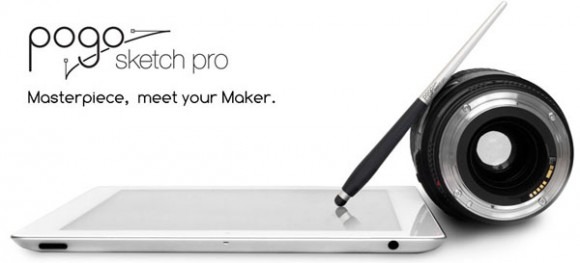 There are a several applications on the iPad and iPhone that allow the user to draw on images and to create original drawings using the touchscreen devices. Ten One design has offered a case with an attached iPad capacitive stylus before. The company is now back with a new capacitive stylus that is designed to be like a paintbrush for artists that like to draw digitally. The stylus is called the Pogo Sketch Pro.
Where the original capacitive stylus for the iPad and iPhone were small and made for portability, the Sketch Pro is a longer fully sized stylus with a broader tip that looks like a paintbrush. The stylus has a ergonomic grip that tapers and has a unibody aluminum handle. The tip is the stylus is designed for sensitivity and precision.
The lower end of the stylus near the tip is rubberized for grip and control. The Pogo Sketch Pro is also weighted for long-term comfortable use. The Sketch Pro will ship in October for $24.95. The stylus will also have replaceable tips allowing it to last and last.
"The creativity the Ten One Design community possesses is just mind-blowing," said Peter Skinner, CEO, Ten One Design. "We love to facilitate their artistic passions and encourage the unique work they create. The work they've done thus far with the original Pogo Sketch has been nothing short of amazing, so we're eager to see what they can do with the Pogo Sketch Pro."