Temple Run for Android seeks iOS success on Galaxy Nexus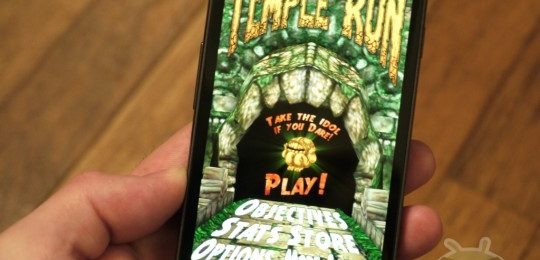 This week one of the most hotly anticipated games in mobile, Temple Run, has finally hit the Android platform. This game has been a gigantic hit already for the iPhone, the iPod Touch, and the iPad, and the Android world is reacting with heavy downloads across the nation here in the developers first offering of the game for Google-based systems. Straight from Android Community we've got a hands-on look at the game below – see what the fuss is all about!
You can currently download this game on Google Play's App Store and appears to be compatible with the vast amount of devices out there – a feat given the utterly massive amount of different sized screens and form factors included in the Android universe. Without further ado, have a peek at this game as it exists on Google's current hero device, the Galaxy Nexus, running Android 4.0 Ice Cream Sandwich:
You'll be able control this game with swipes, taps, and tilts of your device, and in many ways you'll be having the same experience here on Android that you did on iOS – if you're the type of person who has both platforms on the regular. This game is currently version 1.0 and does appear to have one or two bugs still in it (force closes and the like) but is certainly a final release from its makers. Now we wait to see if the game has an expansion, and if it'll be released to Android at the same time it's released to iOS!