Temple Run 2 Hits iOS Tonight [UPDATE: And Android Next Week]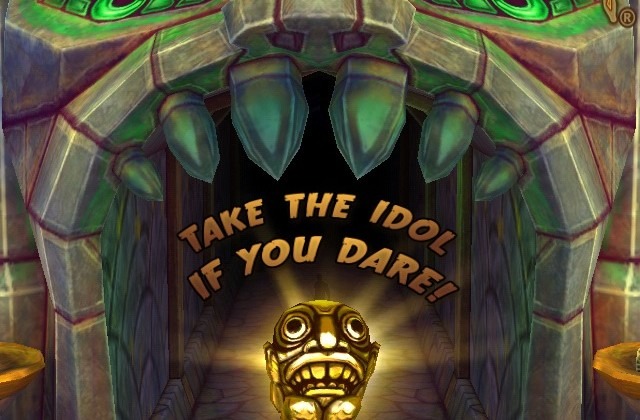 The sequel to the surprise blockbuster mobile game known as Temple Run has been released today first in New Zealand and will be out for the US market by nightfall. This app is being released for free as the first version was, earning the developers cash through in-game boost purchases. At the moment there's no word* on the Android version of Temple Run 2, so hold your horses if you've got anything other than an iPhone. *UPDATE: we've just received word from the developers of this title that the Android version is coming next week!
The demonstration video for this app was revealed earlier today by the group who develops the popular title: Imangi Studios, LLC. This video shows a much more diverse landscape for the game, including massive amounts of moving traps, ways to avoid death, and options for blasting forth.
Temple Run 2 works with the original Guy Dangerous character from the original game and has a set of new characters you can use in the field. Upgrades include Coin Value, Coin Magnet, Shield Duration, Pickup Spawn, Boost Distance, Power Meter, and more. Don't forget the bigger monkey – "How far can you run?"
"• Beautiful new graphics

• Gorgeous new organic environments

• New obstacles

• More powerups

• More achievements

• Special powers for each character

• Bigger monkey!!!" – Imangi Studios, LLC
The original Temple Run is also available for iOS and Android, it having separate versions for smartphones and tablet-sized devices. Details are low on the release of this next-generation game, though given the popularity of the first Run, we've got to assume full coverage. Take a peek right now and see if it's out yet – it's guaranteed by 11PM EST for the USA!
Be sure you ONLY download apps from the official Imangi Studios, LLC collection as everything else is potentially a fake. Watch out for fibbers – Temple Run has had its fair share of app spoofers trying to trick the public in the past. The only way to be sure is to stick to the real-deal Imangi Studios set of apps – officially!
[via Touch Arcade]